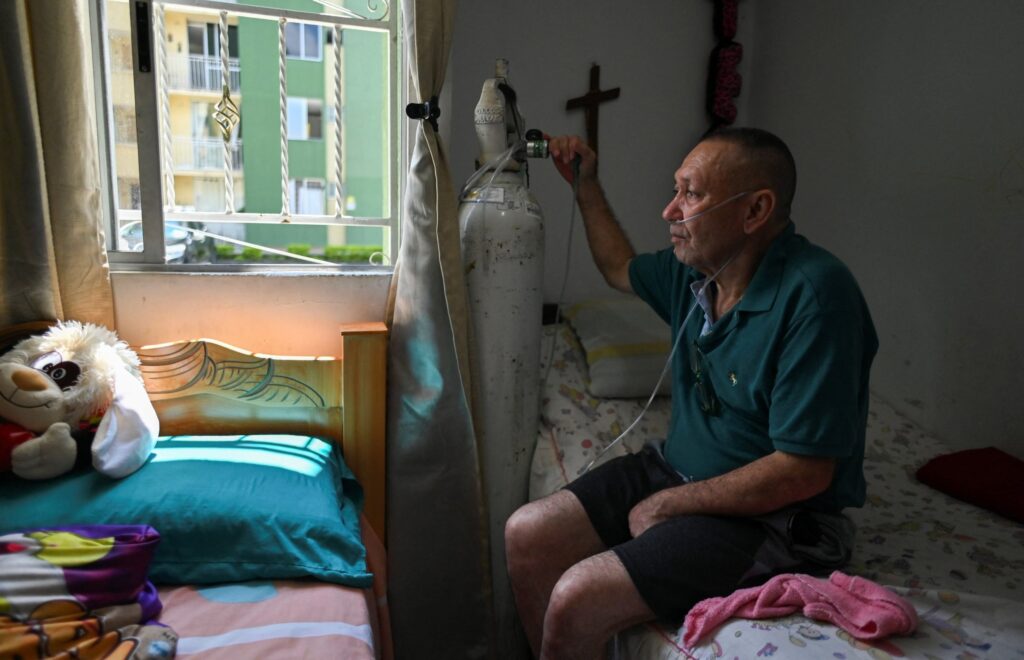 Victor Escobar aliamua kujitoa uhai na kufanya hivyo hadharani. Escobar alikuwa mmoja wa Waamerika wa kwanza kujitoa uhai bila kuugua ugonjwa sugu chini ya uamuzi wa mahakama ya msingi nchini Colombia.
Saa chache kabla ya kifo chake siku ya Ijumaa, Escobar mwenye umri wa miaka 60 alisherehekea kile alichokiita ushindi katika vita vyake vya miaka miwili na ugonjwa wa mapafu ambao ulimfanya ashindwe kupumua vyema.
"Kidogo kidogo, inakuwa zamu ya kila mtu. Kwa hivyo siwaageni bali tutaonana hivi karibuni. Na kidogo kidogo tutafika kwake Mungu," Escobar, ambaye ni Mkatoliki, alisema katika video iliyotumwa kwa vyombo vya habari.
Alifariki katika jiji la Cali akiwa na madaktari wake, wakili wake alisema kwenye Twitter.
Picha yake ya mwisho akiwa hai inamuonyesha akitabasamu huku akiwa amezungukwa na familia yake. Alichomwa dawa ya kumtuliza na kisha sindano ya kumtoa uhai.
Colombia vikwazo kwa watu wanaotaka kujitoa uhai kwa usaidizi mwaka wa 1997, na mnamo Julai 2021 mahakama kuu ikatoa ruhusa kwa watu ambao hawaugui ugonjwa sugu pia kujitoa uhai.
Colombia ni nchi ya kwanza ya Amerika Kusini kuchukua hatua hiyo na mojawapo ya nchi chache duniani, na ilifanya hivyo licha ya kuwa wengi wa Wacolombia ni Wakatoliki. Kanisa linapinga kujitoa uhai kwa kusaidiwa.
"Tayari nilikuwa nahisi kuumwa. Nilihisi kama mapafu yangu hayafanyi kazi vizuri," Escobar aliiambia AFP mwezi Oktoba.
Ugonjwa wa kisukari na ugonjwa wa moyo na mishipa ulimlazimu kutumia kiti cha magurudumu.
Familia yake ilimuunga mkono kutaka kujitoa uhai kwa kusaidiwa na madaktari.
Barani Ulaya ni nchi za Ubelgiji, Uholanzi, Luxemburg na Uhispania pekee ambazo zimehalalisha kujitoa uhai kwa kusaidiwa na madaktari.
Kufikia katikati ya mwaka wa 2021 wagonjwa kama Escobar — wenye magonjwa sugu na ambao wamesalia na muda wa miezi sita pekee ya uhai — hawakuweza kupata huduma hiyo ya euthanasia ambayo ni utaratibu wa kumtoa mtu uhai.
Monica Giraldo wa shirika lisilo la kiserikali liitwalo Foundation for the Right to Digified Death,alisema tangu mahakama itoe uamuzi wa kuruhusu utoaji uhai kwa kusaidiwa na madaktari, watu watatu wenye magonjwa yasiyokuwa sugu walitumia nafasi hiyo na kujitoa uhai,  lakini Escobar ndiye wa kwanza kufanya hivyo hadharani.
Escobar amesema aliugua baada ya kufanya kazi miaka mingi katika kiwanda kilichokuwa na asbesto zilizoathiri afya yake na kumsababishia saratani.