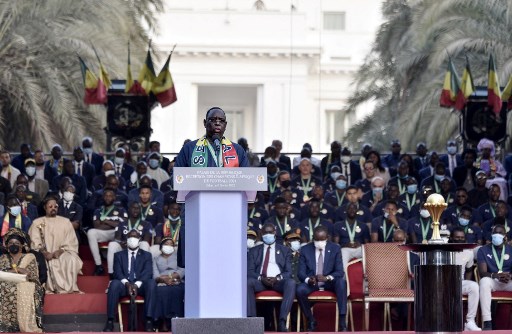 Rais wa Senegal Macky Sall aliitunuku timu ya taifa ya soka zawadi za pesa taslimu na mashamba siku ya Jumanne, kufuatia ushindi katika Kombe la Mataifa ya Afrika.
Katika hafla iliyofanyika katika ikulu ya rais mjini Dakar, pia aliwateua katika kitengo maalum cha 'Order of the Lion'.
"Tulitamani kushinda kombe hili, ulijenga ndoto hii na mumeitimiza" Rais Sall alisema.
Teranga Lions ikiongozwa na nyota wa Liverpool, Sadio Mane, iliishinda Misri ya Mohamed Salah kwa mabao 4-2 katika mikwaju ya penalti katika fainali iliyochezwa Jumapili nchini Cameroon.
Mchezo huo ulikuwa umeisha bila bao baada ya muda wa ziada.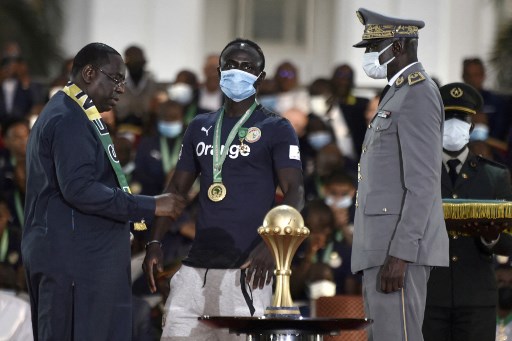 Ushindi huo uliashiria mafanikio ya kwanza kwa Senegal baada ya zaidi ya miaka hamsini ya kushiriki katika mashindano hayo.
Mamia ya maelfu ya mashabiki waliojawa na furaha pia walimiminika katika mitaa ya jiji hilo lenye watu milioni tatu siku ya Jumatatu.
Siku hiyo ilikuwa imetangazwa kama sikukuu ya kitaifa ili wasenegal waikaribishe nyumbani timu hiyo iliporejea kutoka Cameroon.
Watu watatu walipoteza maisha yao wakati wa sherehe hizo za kuikaribisha Teranga Lions nyumbani, Sall alisema.
Siku ya Jumanne, alitangaza zawadi ya dola 87,000 kwa kila mchezaji, pamoja na ardhi ya mita za mraba 200 mjini Dakar, na ardhi nyingine ya mita za mraba 500 (futi za mraba 5,400) katika mji wa Diamniadio.
Rais pia alimtaka kocha wa Senegal Aliou Cisse kuiongoza timu ya Senegal hadi nusu fainali ya Kombe la Dunia la 2022, litakalofanyika Qatar.