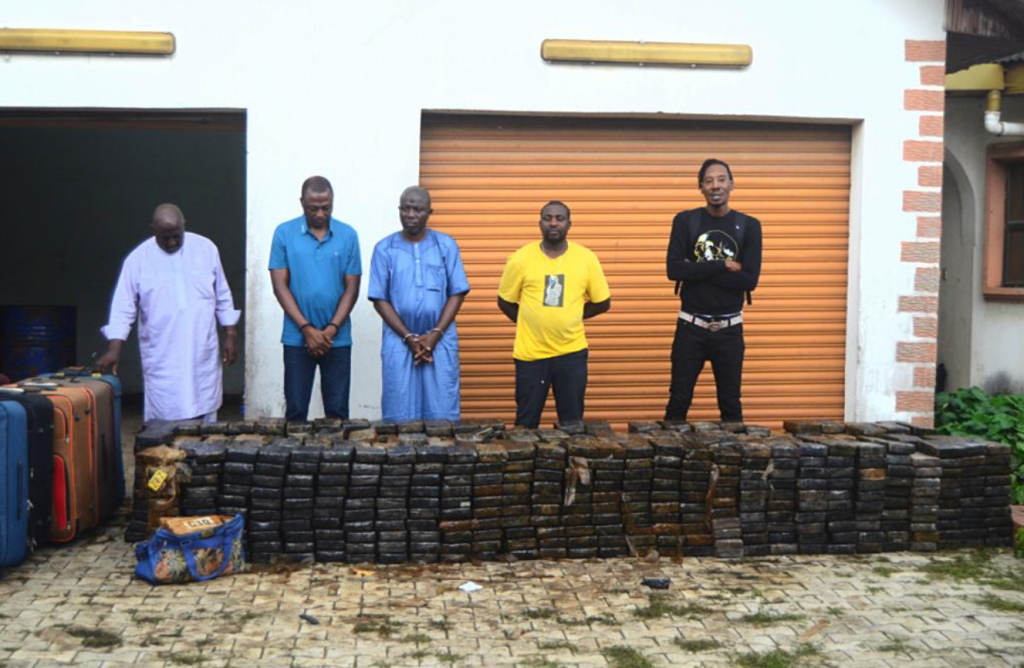 Nigeria's National Drug Law Enforcement Agency says it has made what appears to be the largest seizure of cocaine in the country's history.
1.8 tonnes (1,855 kilograms) of cocaine estimated to be worth more than $278m (£243m) were discovered at a warehouse in Ikorodu, north-east of a commercial hub, Lagos.
The drugs were stored in 10 travel bags and 13 barrels, said the National Drug Law Enforcement Agency (NDLEA).
The kingpins are Soji Jibril, 69, an indigene of Ibadan, Oyo; Emmanuel Chukwu 65, from Ekwulobia, Anambra; Wasiu Akinade, 53, from Ibadan, Oyo; Sunday Oguntelure, 53, from Okitipupa, Ondo and Kelvin Smith, 42, a native of Kingston, Jamaica, were arrested in different parts of Lagos.
The foreigner was also detailed, in what the agency said was a "well-coordinated and intelligence-led operation" carried out over two days.
NDLEA says the men were planning to sell the drugs to buyers in Europe, Asia and other parts of the world. They are all members of an international drug syndicate that the NDLEA has been trailing since 2018.
The head of the organisation, Brigadier General Mohamed Buba Marwa (retired), praised his officers who collaborated with their US counterparts in the operation.
"The crackdown is a historic blow to drug cartels and a stern warning that all will be arrested if they fail to realize that the game has changed," a statement from the agency quoted him as saying.
In January 2021, by comparison, more than 23,000 people were reported to have died of the virus in a week. Approximately 65% of the U.S. population is cSenior Republicans criticized the president's comments, with former Secretary of State Mike Pompeo tweeting "Biden is now saying 'the disease is over' why he is firing tens of thousands of healthy soldiers from the military with his COVID vaccine order."onsidered fully vaccinated.
Public health officials have expressed cautious optimism in recent weeks that the world is on track to recover from the pandemic, but continue to urge people to be cautious.
On Monday, Dr. Anthony Fauci, head of the National Institute of Allergy and Infectious Diseases, acknowledged the situation was good.