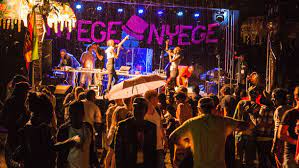 The Nyege Nyege festival delivered on its promise: Days and nights of partying and merrymaking, but the thousands of revelers who thronged the event had only one disappointment, the accommodation situation.
The much-anticipated festival kicked off in Uganda on Thursday and ended on Monday but a section of revelers were not pleased with the accommodation facilities.
Several adventure-hungry partygoers who travelled to the shores of River Nile to be part of the event said organizers promised quality cottages in some areas but they were shocked to find cardboard shacks lacking proper sanitary facilities.
Some of the partygoers attending the festival, which brings together artists from across Africa, told this writer who also attended the festival that "this is not what I paid for".
The festival, which moved to a new, larger outdoor venue this year, began in 2015 but had been on a pandemic-induced hiatus since 2020.
Organizers of the much-touted Nyege Nyege festival in Uganda have come out to apologize to attendees of the event who were left disappointed by the poorly organized function.
In a statement issued on Monday, the event organizers specifically apologized for the sorry state of accommodation that left disgruntled fans lamenting on social media.
According to the team, the service provider contracted to secure accommodation at the venue failed to deliver their promise to the disappointment of the fans.
"Nyege Nyege Festival apologizes for any shortcomings in regards to on-site accommodation at the festival. We genuinely regret any inconvenience caused and we will make sure we improve future editions."
"It is unfortunate that the service provider called Afro Avenue who was contracted for on-site luxury accommodation did not deliver as promised and also sold illegitimate camping accommodation through his company that we found out on the day of the festival," reads the statement.
The event organizers have vowed to take legal action against the service provider as well as secure refunds.
In this article