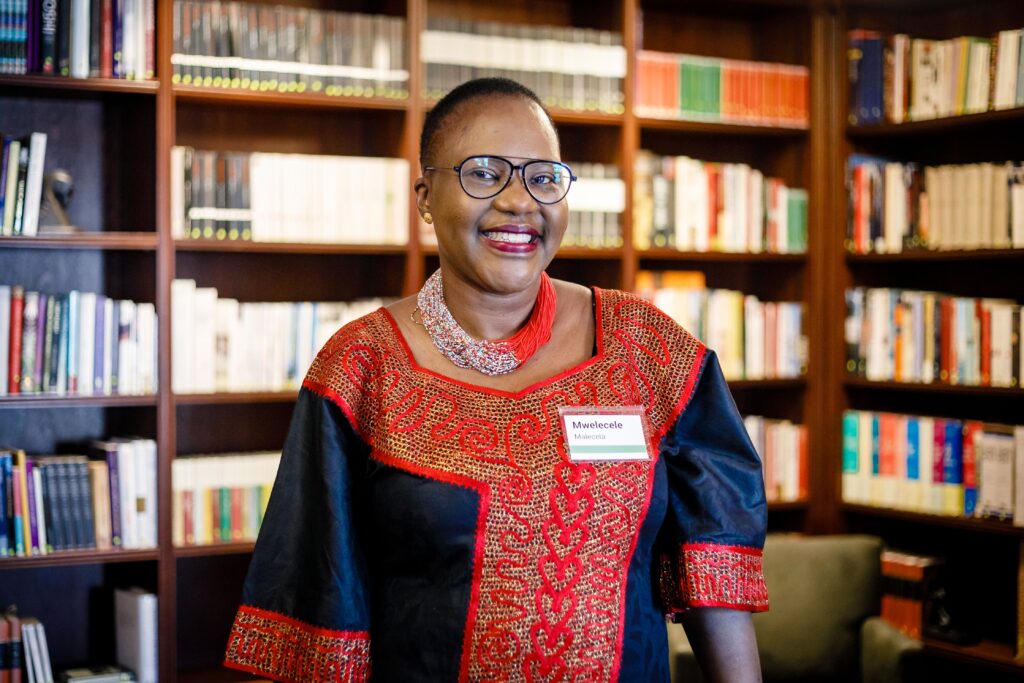 Dk.Mwele Ntuli Malecela alizaliwa Machi 26, 1963, alihitimu shahada yake ya kwanza katika masuala ya wanyama katika chuo kikuu cha Dar es Salaam. Baadaye aliendelea na elimu ya juu katika chuo kiitwacho London School of Hygiene and Tropical Medicine ambako alitunukiwa shahada yake ya pili mwaka 1990 na shahada ya uzamivu mwaka 1995.
Wakati akiwa anaendelea kujiimalisha katika elimu yake Dk Mwele, aliweza kufanya kazi na Taasisi ya Taifa ya Utafiti wa Magonjwa ya Binadamu nchini Tanzania(NIMRI), ambapo hapo alijunga mwaka 1987.
Aliendelea na tafiti zake katika taasisi ya NIMRI, mpaka kufikia mwaka 1998 ambapo alipewa cheo cha Mkurugenzi wa Tafiti.
Mwaka 2000 Mwele alikua kiongozi wa program ya homa ya matende, ambayo imekua ikifanya kazi katika wilaya takribani 53 nchini Tanzania
Aliwahi pia kuwa Mkurugenzi wa Taasisi ya Taifa ya Utafiti wa Magonjwa ya Binadamu nchini Tanzania(NIMRI), nafasi ambayo aliiachia mwaka Desemba 17,2016  baada ya kutumbuliwa na aliyekuwa Rais wa wakati huo marehemu Dk John Magufuli,  ikiwa ni siku moja tu tangu alipotoa taarifa ya uwepo wa ugonjwa wa Zika nchini humo.
Baada ya kuondolewa kazini na serikali ya Tanzania nyota ya Dk Mwele, ikazidi kung'ara  duniani kote, kwani mwaka 2017 Mwele Malecela aliteuliwa kuwa Mkurugenzi wa Vituo vya Kudhibiti na Kuzuia Magonjwa Afrika (Espen), katika Shirika la Afya Duniani (WHO), Kanda ya Afrika, nafasi ambayo alidumu nayo katika kipindi cha takribani mwaka mmoja na ilipofika mwaka 2018 mwezi Oktoba aliteuliwa tena kuwa  mkurugenzi wa WHO anayeshughulikia magonjwa yasiyopewa kipaumbele (NTD) nafasi ambayo ameitumikia hadi umauti ulipo mfika
Katika maisha yake hapa duniani pia aliweza kujiingiza kwenye harakati za siasa akiwa ni mwanachama wa Chama cha Mapinduzi, CCM alichojiunga nacho mnamo mwaka 1981, na mwaka 2015 aliwahi kuchukua fomu za kuomba kuteuliwa kugombea nafasi ya urais kupitia chama hicho.
Dk Mwele ambaye ni mtoto wa Waziri Mkuu mstaafu nchini Tanzania, John Malecela, amefariki siku ya Alhamisi, Februari 10, 2022 huko Geneva nchini Uswisi wakati akipatiwa matibabu.
Itakumbukwa kuwa mwezi Mei 17, 2019, Dk Mwele Malecela kupitia mtandao wa kijamii wa Twita aliandika "Ni mwaka mmoja sasa tangu nigundulike nina saratani, nimepata mafunzo na baraka. Namshukuru Mungu.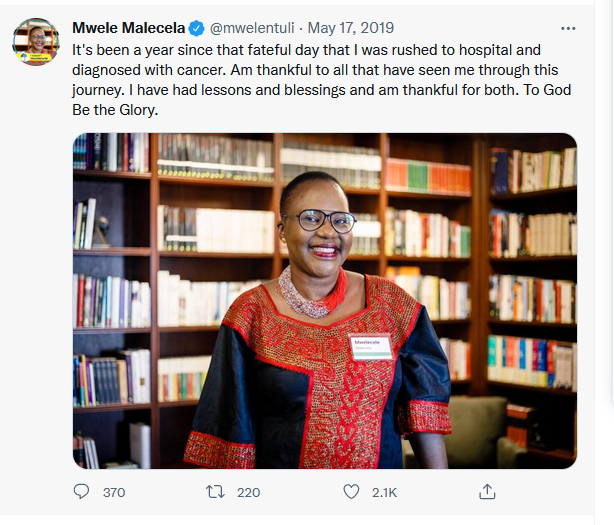 Hata hivyo bado taarifa juu ya chanzo cha kifo chake hakiwekwa wazi hadi pale taratibu nyingine za kifamilia zitakapotolewa.