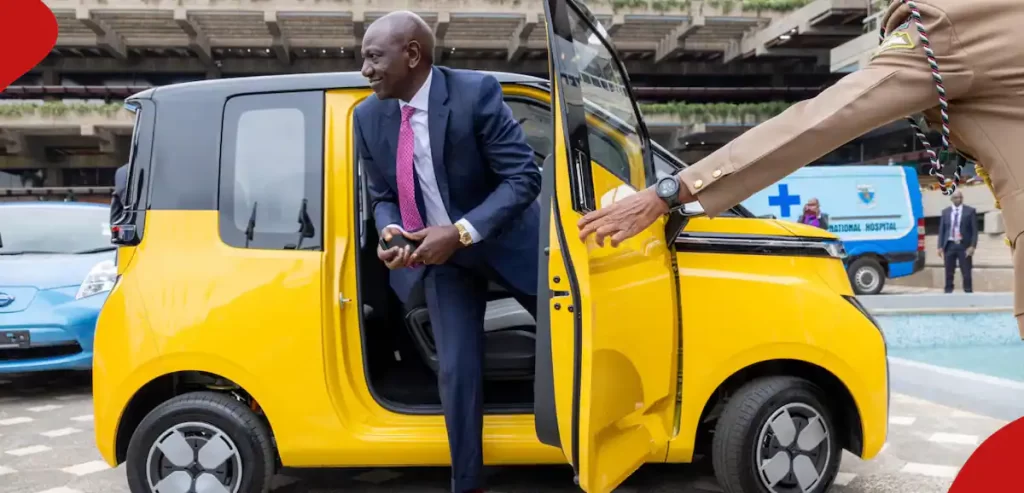 President William Ruto's motorcade to the Kenyatta International Convention Centre in Nairobi where the Africa Climate Summit is taking place has drawn attention because of his choice of ride; the Autopax Air Yetu electric car.
Dr Ruto on Sunday and Monday ditched his usual heavy detail of fuel-guzzling SUVs and drove himself in the tiny three-door electric hatchback, quite on brand for a convention aimed at addressing the escalating challenges posed by climate change.
But what is this tiny car touted as Kenya's first Electric Vehicle (EV) by a local company?
The Air Yetu is the product of a partnership between Kenyan EV company Autopax and the Chinese automobile company SAIC-GM-Wuling (SGMW).
The car is manufactured in Liuzhou, China and assembled in Nairobi.
It comes in two trim levels; the standard range Autopax Air Yetu which covers 200 kilometres on a full charge, and the long-range Autopax Air Yetu Pro which covers 300 kilometres when fully charged.
Although the car has not yet gone on sale in Kenya, Autopax told Citizen Digital on Monday that Kenyans can expect to get it from a starting price of between Ksh.1.7 million and Ksh.2 million when it hits the market.
Buyers can choose between two colours; the 'Lemon Yellow' President Ruto has been driving and an 'Avocado Green' option.
The standard range car's 17.3 KWh battery takes eight and a half hours to be fully charged while for the long-range version, its 26.7 KWh battery takes four hours to charge fully.
Both cars have a four-seat capacity, a rear parking sensor and camera, radio, USB connectivity, Bluetooth and two airbags.
The long-range version additionally gets satellite navigation, a synthetic leather interior, a remote door lock and window control, as well as a geofencing alarm. Geofencing alarms send alerts to car owners if their vehicle enters the specified geofence area or leaves it.
In a bid to convince Kenyans to stop depending on fossil fuels and switch to renewable energy-powered cars, Autopax promises lower operating costs with the Air Yetu, across both service charges and charging costs.
Autopax says because electric motors have fewer moving parts, it reduces the need for maintenance and servicing of EVs.
"If you drive an Autopax Electric Vehicle, you will spend 40 per cent of what you would have spent on petrol. In other words, if you would have spent Ksh.100 on fuel, you would now spend a maximum of Ksh.40," adds the company on its website.
The company also promises a quieter and smoother ride due to the absence of an internal combustion engine.
"This feature enhances the driving experience and reduces noise pollution, contributing to a more peaceful and enjoyable environment for passengers and pedestrians alike," Autopax says.
The Kenyan environmentalist and businessman Dr Isaac Kalua Green is the founder of Autopax.
The company has indicated that it is also in the process of developing other e-mobility products on top of the electric cars.
"In addition to the Autopax AirEv Yetu, Autopax engineers are in the process of creating additional and most reliable electric mobility solutions to meet mobility requirements for African customers," reads Autopax's website.