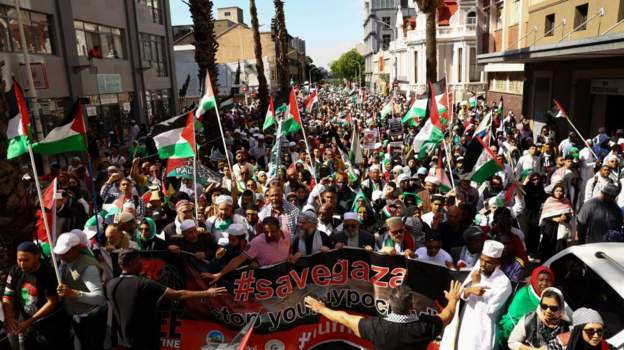 South Africa's governing African National Congress (ANC) said it would support an opposition motion in parliament "to close the Israel embassy in South Africa and suspend all diplomatic relations with the country until it agrees to a ceasefire".
The ANC has also said it expects Israel to "commit to binding United Nations facilitated negotiations".
The opposition Economic Freedom Fighters (EFF) is also calling for the suspension of all diplomatic relations with Israel in solidarity with Palestinian people.
South African sympathy for the Palestinian fight for an independent state goes back to the days of late anti-apartheid icon Nelson Mandela.
He famously said in 1997, three years after he became the country's first democratically elected president after decades of struggle against white-minority rule: "We know too well that our freedom is incomplete without the freedom of the Palestinians."
The unprecedented Hamas attack on Israel, which killed some 1,400 people, has not changed the position of the ANC, even though two South African nationals were among the dead and another is among the more than 230 people taken hostage.