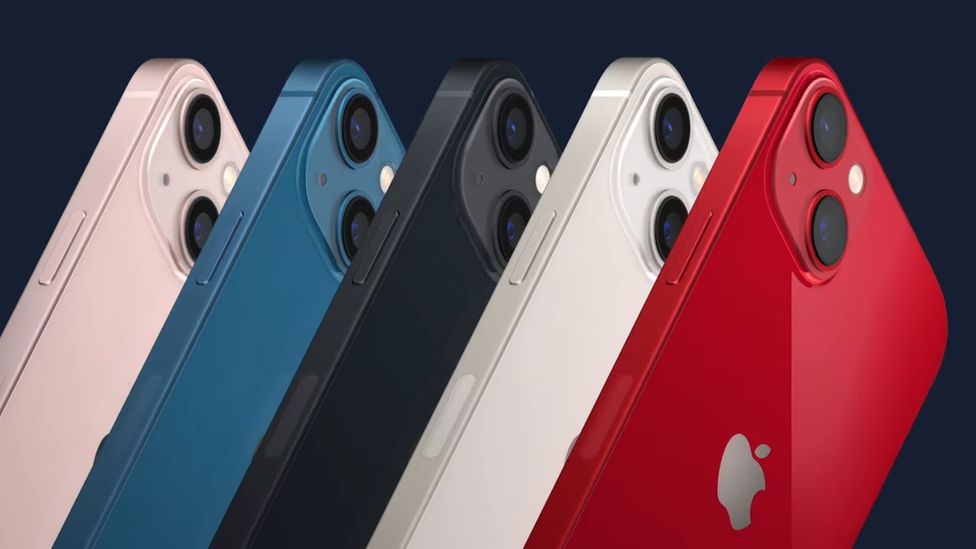 Apple has announced its new iPhone 13, which can film "portrait mode" videos with a depth of field effect.
The new cinematic mode "anticipates when someone is about to enter the frame" and shifts focus to them, Apple said – something known as "pull focus".
"It is the only smartphone that lets users edit this effect after shooting",
Apple boss Tim Cook said.
However, most other features on the new model were incremental updates over previous versions.
New features
The new iPhone includes a faster A15 chip, a brighter display, and a battery life of up to 2.5 hours longer, and comes in new colours including pink, blue, midnight, starlight and red.
The new iPhone will also have up to 500GB of storage with its lowest available storage rising to 128GB from previous models' 64GB.
Apple was also keen to stress its green credentials, saying the phone used many recycled materials – including antenna lines made from plastic water bottles, it said.
The launch comes as buyers are keeping their phones for longer before upgrading. Investment firm Wedbush Securities estimates that around 250 million iPhone users have not upgraded their phones in 3.5 years.
The 5G connectivity is only available on the iPhone 12, released last year, and the newly-announced models.
In the second quarter of this year, Apple shipped 25.9% of all 5G handsets in the world, according to analyst firm IDC.
Marta Pinto, senior research manager at IDC, said:
"With the new portfolio, this number will grow and consolidate the dominance of Apple in that space."
"Not being the first [to launch a 5G phone] paid off."
Apple also launched an iPhone 13 Mini, Pro and Pro Max.
The iPhone 13 Pro and Pro Max contain three cameras and what Apple calls "its most advanced camera system yet".
Its premium models include a Super Retina XDR display and ProMotion – which delivers adaptive refresh rates of up to 120Hz.
This allows for smoother scrolling, animations, and gameplay.
iPad updates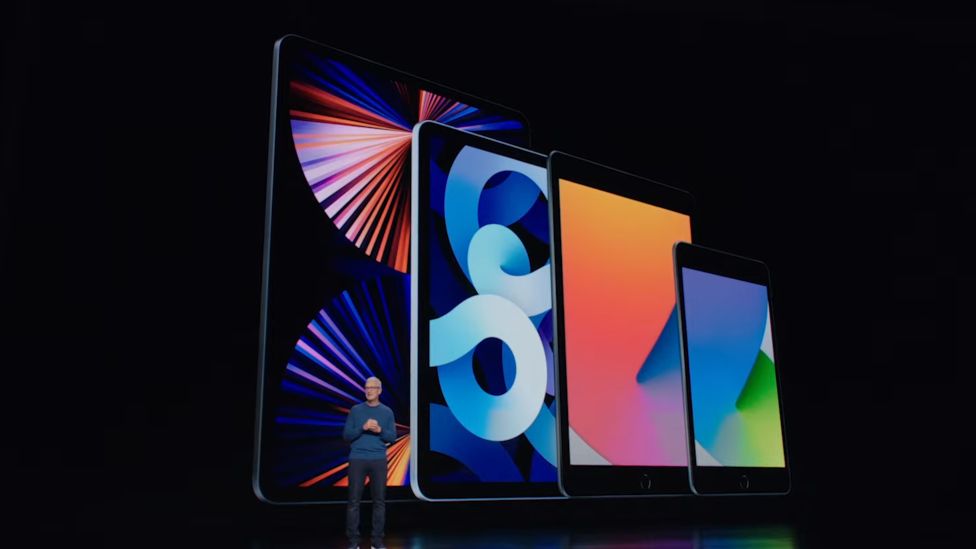 Apple has also launched a new version of its iPad. Tim Cook said its iPad sales had grown by 40% in the past year.
It will be powered by the A13 chip, with 20% faster performance from its previous iteration. Apple said this was up to "three times faster than the Chromebook".
Those cheap styles of laptop exploded in popularity last year as schools shut down during the pandemic.
The new iPad starts at $329 (£319) and has a discounted price of $299 for schools.