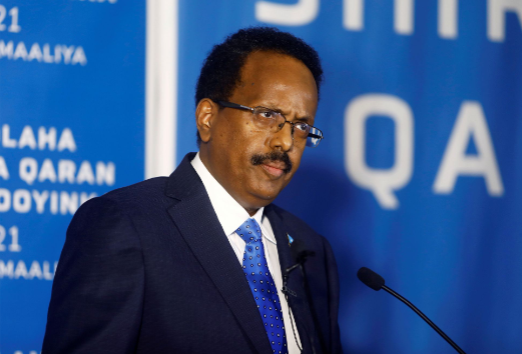 Somalia's President Mohamed Abdullahi Mohamed has suspended the prime minister's power to hire and fire officials, he said in a statement on Thursday, escalating a destabilising row in the Horn of Africa nation.
The dispute between Mohamed and Prime Minister Mohammed Hussein Roble, nominally over a murder investigation, marks an escalation of months of tension between them in a country riven by militant attacks and clan rivalries.
"The prime minister violated the constitution," the president said in the
statement, saying the suspension will last until the conclusion of elections
later this year.
The president also rejected the prime minister's decision to sack the security
minister.
The president has appointed a commission of inquiry to look into the disappearance of Ms Tahlil, but the spy's mother, Qali Mohamud, dismissed the move, saying she wanted a military court to investigate.
In the latest development, the president's office said in a statement that the prime minister's powers – especially over the appointment and dismissal of officials – had been withdrawn until Somalia held elections.
The Horn of Africa nation is scheduled to hold indirect parliamentary elections
between 1 October and 25 November.

Mwanzo Editor.