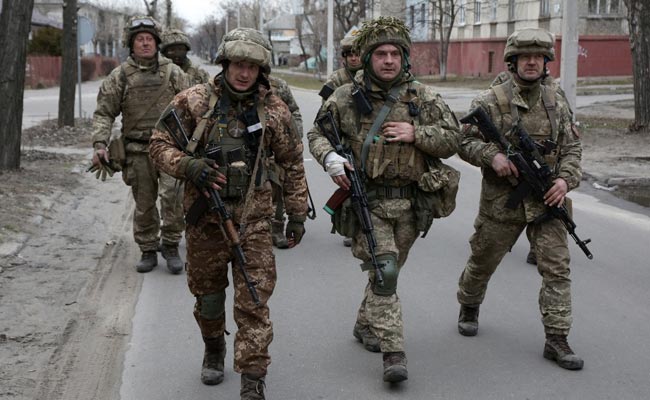 Kyiv imewasilisha maombi mbele ya Mahakama ya Juu ya Kimataifa ya Umoja wa Mataifa huko The Hague, ikiishutumu Urusi kwa "kupanga vitendo vya mauaji ya kimbari" nchini Ukraine huku uvamizi huo ukiingia siku ya sita.
ICJ ilisema Jumanne itafanya vikao kuhusu mauaji ya halaiki Machi 7 na 8 kuhusu vita vya Ukraine, huku mapigano yakizidi.
Zaidi ya watu 660,000 tayari wamekimbia nje ya nchi, kulingana na shirika la Umoja wa Mataifa la kuhudumia wakimbizi, ambalo linakadiria kuwa watu milioni moja wamekimbia makazi yao huko Ukraine.
Katika Mahakama ya Kimataifa ya Uhalifu, pia mjini The Hague, mwendesha mashtaka mkuu Karim Khan ameanzisha uchunguzi, akisema: "Kuna msingi wa kuridhisha wa kuamini kwamba uhalifu wa kivita na uhalifu dhidi ya binadamu umetendwa."
Haya ni maswali matano muhimu kuhusu Urusi, Ukraine na sheria za kimataifa:
Je, Urusi imevunja sheria za kimataifa?
Ndiyo. Urusi imevunja kifungu cha 2(4) cha Mkataba wa Umoja wa Mataifa, ambacho kinakataza matumizi ya nguvu, alisema Geoff Gordon, mtafiti mkuu katika Taasisi ya Asser yenye makao yake makuu mjini Hague ya Sheria za Kimataifa na Ulaya.
"Matumizi ya nguvu za kijeshi za Urusi si jambo geni" nchini Ukraine, aliongeza profesa wa sheria za kimataifa mwenye makao yake Uingereza Philippe Sands.
"Moja ya tofauti kati ya hapo awali na sasa ni kwamba sheria zipo ili kutulinda kutokana na vitendo kama hivyo, vilivyorodheshwa katika Mkataba wa Umoja wa Mataifa, hii ikiwa sheria tuliyo nayo kama katiba ya kimataifa," Sands aliandika katika Financial Times.
"Hizi ni ahadi muhimu zaidi za Mkataba ambazo Bw. Putin amevunja,"alisema Sands.
Ni mahakama gani zinaweza kusikiliza kesi zinazohusiana na Ukraine?
Ukraine imetuma maombi ya kuleta kesi kwa ICJ, kuhusiana na kuvamiwa kwake na Urusi.
Mahakama za kitaifa zinaweza pia kusikiliza kesi zinazohusiana na ukiukaji wa sheria za kimataifa, aliongeza.
Urusi pia inaweza kufikishwa mbele ya Mahakama ya Ulaya ya Haki za Kibinadamu kwa ukiukaji wa haki za binadamu.
Mahakama ya Kimataifa ya Uhalifu imepewa uwezo wa kuchunguza uhalifu wa kivita uliofanywa na watu binafsi katika eneo la Ukraine.
Ukraine si mwanachama, lakini mwaka 2014 ilikubali mamlaka ya Mahakama.
Urusi, hata hivyo ilijiondoa katika mahakama ya ICC, hivyo mahakama hiyo itaweza tu kuwafikia Warusi iwapo watakamatwa kwenye eneo la jimbo linaloheshimu mamlaka ya mahakama hiyo.
Je, watu binafsi wanaweza kuwajibika?
Mahakama ya ICC inawafungulia mashitaka watu wanaotuhumiwa kwa uhalifu mbaya zaidi duniani ikiwa ni pamoja na mauaji ya halaiki, uhalifu wa kivita na uhalifu dhidi ya binadamu.
Watu binafsi pia wanaweza kuhukumiwa katika mahakama za kitaifa.
Hata hivyo, hata ICC haiwezi kushtaki uhalifu wa uchokozi — shambulio la taifa moja dhidi ya jingine lililopangwa na kiongozi wa kisiasa au kijeshi — ikiwa nchi hiyo haikuidhinisha Mkataba wa Roma wa mahakama hiyo, ambao Urusi wala Ukraine haijafanya.
Sands hata hivyo alipendekeza kuanzishwa kwa mahakama maalum ya kimataifa ya uhalifu inayozingatia uhalifu wa uvamizi wa Urusi dhidi ya Ukraine.
Nini kitatokea sasa?
ICJ yenye makao yake The Hague — ambayo inatawala katika mizozo kati ya nchi — itafanya mikutano ya hadhara kwa mara ya kwanza kuhusu madai ya mauaji ya kimbari mapema mwezi Machi.
"Mashauri hayo yatahusu ombi lililowasilishwa na Ukraine," mahakama ilisema Jumanne.
Iwapo majaji wa mahakama ya ICC watakubali, mahakama hiyo ina mamlaka na ushahidi wa kuunga mkono, uchunguzi unaweza kusababisha mwendesha mashtaka mkuu Khan kutoa mashtaka na kufunguliwa mashtaka dhidi ya Ukraine.
Hata hivyo, mchakato wa ICC unaweza kuharakishwa iwapo nchi mwanachama itapeleka kesi mahakamani, na hivyo kukwepa hitaji la kupata kibali cha majaji.
– Itakuwa na athari gani?
Wataalam wanakubali swali hili ni gumu kujibu.
ICJ, ambayo maamuzi yake ni ya mwisho na hayawezi kukatiwa rufaa "inakosa utaratibu wa kawaida wa kutekeleza maamuzi yake," alisema Gordon.
Vile vile, ICC haina jeshi lake la polisi na inategemea nchi wanachama kukamata washukiwa.
"Kwa upande mwingine, tunaona uhamasishaji wa mifumo kadhaa iliyoratibiwa kuadhibu Urusi kwa kuendesha vita haramu,"Gordon alisema.
Hii ilijumuisha vikwazo vya kiuchumi, vikwazo vya usafiri, na kufutiliwa mbali kushiriki michezo ya kimataifa.
"Hukumu ya ICJ inaweza kuwa funzo kwa kiongozi yeyote yule ambaye atafikiria kuchukua hatua kama ya Urusi katika siku za usoni. "alisema Gordon.