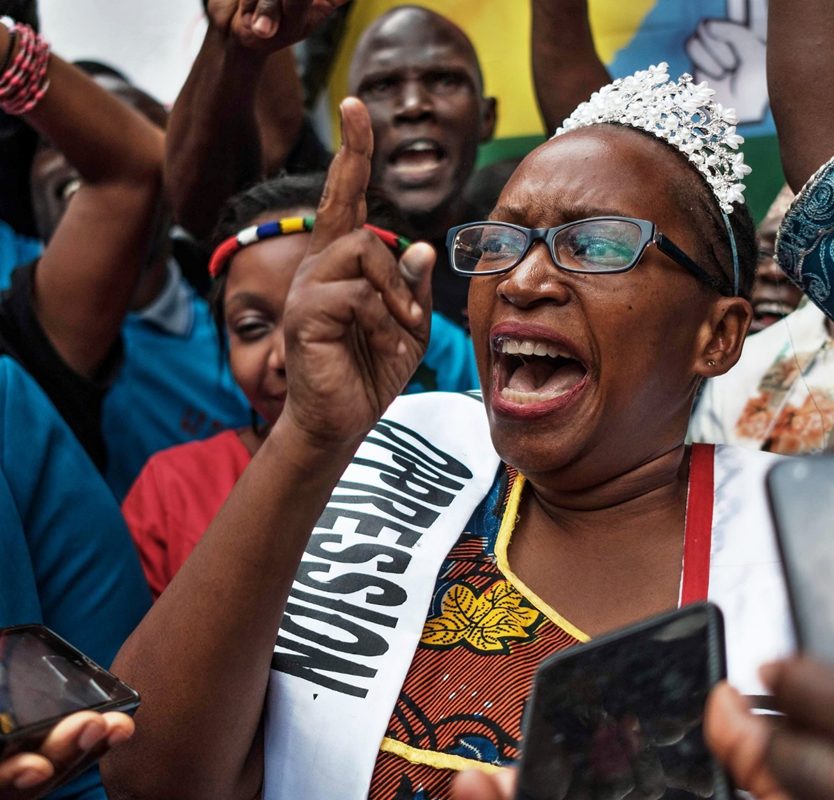 "I'm a woman, a human being, a mother, I'm a free thinker, a poet, an academic, an activist, rebellious woman, proud African. Stella Nyanzi is many things but I think at the core of who I am is this little girl yearning to be free." ~ Stella Nyanzi.
Stella Nyanzi was born on 16 June in the year 1974. She is a Ugandan human rights advocate who is famously known in her country and beyond as one of sharp critics of President Yoweri Museveni; she has not been afraid of criticizing the President over what she says are the injustices perpetrated by his government.
Nyanzi says her grievances with the head of state are personal; she blames him for the death of her parents.
"I squarely call my father's death a murder. I squarely call my mother's death a murder, and often when I'm asked why I criticize Yoweri Museveni, and why some of my poetry and writing against him seems to be personal, I say to them that actually my entry into politics is very personal." Says Nyanzi.
Speaking to Mwanzo TV's Leah Ngari in a docu-series dubbed 'Shangazi Power", she recounted how her father, a well-known trained doctor who had a long exemplary history of treating patients across Uganda and the globe, died while driving around looking for much needed medicine. She believes that he would have been alive, if only he had accessed the medicine, which she says was simply a vile.
"My father should not have died…when he had a heart attack, he knew the medicine he wanted, he knew that that medicine is not kept in homes. People say to me why you didn't your father keep medicines at his home; the pharmacology rules in Uganda but also world all over have classes of medicines that are not to be kept on the shelves at home they are only to be given upon prescription from a pharmacy." She said.
She adds: "Our government prioritizes, and still prioritizes defense and security, ammunition, over buying vital medicines. Failure of his government to prioritize public health funding, to prioritize emergency medicines, to ensure that our pharmacies, public health, are equipped with medicines meant that my father died, and so Museveni murdered my father."
Nyanzi says that her father drove around for an hour, looking for the medicine, and that as he entered Masaka Referral Hospital, he died.
A year after her father passed on, her mother also fell ill hours after attending his first memorial service. On a phone call, she complained of chest complications and said she desperately needed to get to a nearby hospital. Nyanzi says she encountered much trouble, in trying to get an ambulance to pick her mother; the ambulance service call centre said they did not have a driver available, and additionally the vehicle available did not have fuel-eating into time she would have used to get her mother help.
She opted to ring a neighbor who fortunately agreed to drive her mother to hospital.
"…and my mother said call an ambulance leave the ambulance alone, as they entered the same hospital which my father died at the same gate, my mother died." Nyanzi recalls.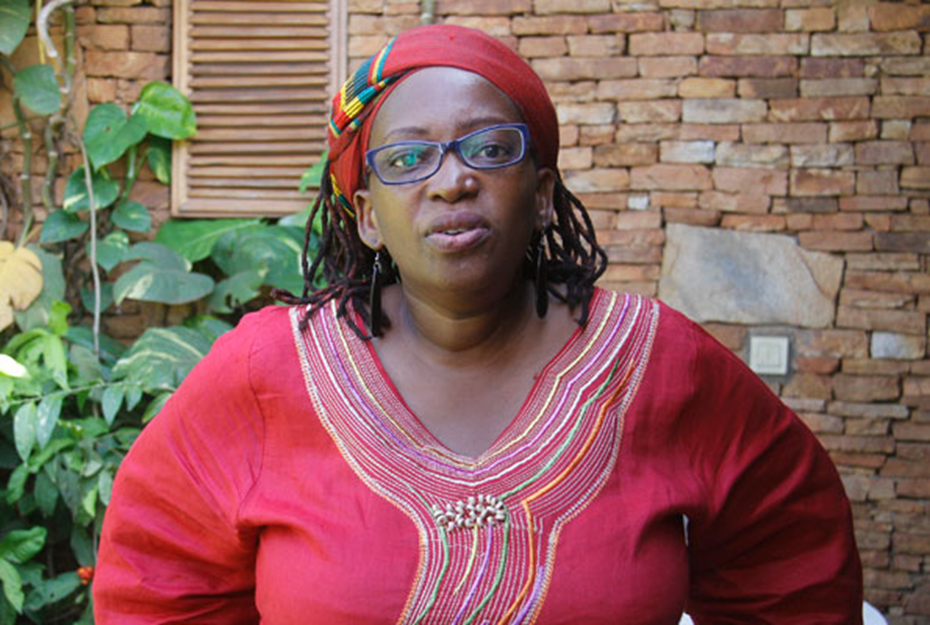 Nyanzi also blames the death of her mother on President Museveni. She says that her life completely changed thereafter, with a vow to remain vocal against the injustices she says are perpetrated by the government in her country.
My journey into politics is very much the yearning of a child crying for her parents and it can't be stopped sadly unless Museveni brings back father and he brings back my mother, there is no end to this, I want regime change…The death of my parents due to public health facilities opened my eyes to the reality of what Ugandans who rely on a functioning public service have to endure." Says Nyanzi.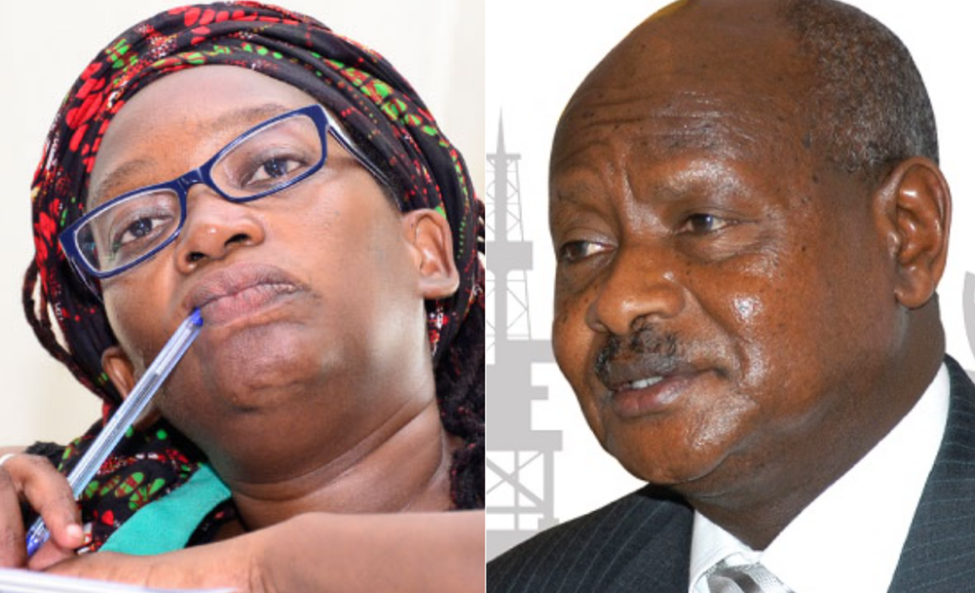 She has remained a fearless critic of Museveni and his government and this has landed her behind bars numerous times. Not afraid to stand alone, Nyanzi has found herself making headlines in her country as "Uganda's Rudest Woman".
Often, she has taken to writing poetry to pen her grievances; some of her poetic pieces have been seen to insult the head of state. Fearing for her life, she has had to flee her country, Uganda, on different occasions. As a child, her parents also fled from then-Ugandan President Idi Amin Dada in the 1970s, forcing her to live in Kenya as a refugee for five years.
"It is a contradiction in terms that in this new Millenium my father's daughter who was a refugee against dictator Idi Amin had to flee again. I fled last year in 2021, returned to Kenya with my children this time I was running away from political persecution under Yoweri Museveni who has made the U-turn from being a revolutionary liberation leader, a freedom fighter, to becoming the worst faces of dictatorship in Africa, and perhaps in the whole world." Says Nyanzi.
Towards the end of January 2022, she yet again fled her country to Kenya and during her stay there, she decided not to go back to Uganda until she was sure, that the lives of government critics were secure. With her family, they are now seeking asylum in Germany.
Stella Nyanzi, a researcher and writer, fled Uganda last year after Museveni won a sixth term as president in a violence-marred campaign that had opponents contesting the results. She also ran unsuccessfully for a Parliament seat and left after her partner, David Musiri, was abducted on January 20 and allegedly tortured by government forces a week after the national elections in Uganda.
Beyond having to flee the place she calls home, Nyanzi has been arrested on numerous occasions and even sentenced to jail time. In March 2017, she referred to the President as "a pair of buttocks. The following month that year, she was arrested and detained by police on charges of cyber harassment and offensive communication.
On 11 April 2017, doctors from the country's Butabika Hospital asked to carry out a psychiatric assessment examination to determine whether she was insane, as the government prosecutor was alleging. However, she and her lawyers mounted a fight against this and succeeded.
"I have been arrested- twice for offensive communication and cyber harassment against Yoweri Museveni." She says.
In one of her other poetic pieces that led her to being called insane, she called President Museveni a pair of buttocks. And also, in another she wrote about his mother's vagina, saying she wished it had squeezed him to death.
In one of the times, she was in prison, she suffered a miscarriage, of what would have been her fourth child, whom she planned to name 'Justice'. She reveals that while in prison, a number of prison ward dressers would humiliate and torture her over writing about the vagina of Museveni's mother; she says they were insensitive to the point of telling her that she was menopausal and watching her bleed into unconsciousness.
"One night there was a lot of rain, they came to my ward room, and unleashed physical and verbal physical torture against me that I had a miscarriage…i remember passing out, when I gained consciousness, my baby was between my legs…" She says.
Nyanzi says upon reporting the matter to the magistrate who was responsible for her case, she did not believer her. She went ahead to report to the Uganda Human Rights Commission, that later sent commissioners to the prison to interrogate the evidence. However, she claims that prison authorities scared those who would try to come forward to testify about the incident.
This experience drove her to later write a petition about incarcerated women. She has been taking aggressive steps towards addressing the violations and excesses in her country, whose institutions she says have been overtaken by the military.
She says the denial of fundamental rights and freedoms to citizens in her country, has made her more resolute towards ensuring that the ills she says are perpetrated by Museveni's government are addressed, even if not immediately brought to an end. She has sought to use all methods including her sexuality, to drive her message across.
On August 2, 2019, she exposed her breasts in protest at a sentencing. Her sexually explicit protests have been likened to pornography, but she says sex is the most effective way to shake people out of their apathy. She adds that she is not afraid to stand alone.
"I have unbared my breasts in court as a woman magistrate was sentencing me unjustly. Instead of taking me to court I was taken to an all-male prison." She says.
Her career was greatly affected in her quest for justice. While working as a Research Fellow at the Makerere Institute of Social Research, she was asked to lecture in a new PhD programme, but declined. Her office was later closed, and this led her to make a nude protest against her boss.
After her arrest in 2017, she was also suspended from Makerere University. She appealed the decision with the University's appeal tribunal, which directed that she be reinstated and promoted to the level of a research fellow with immediate effect. The university refused to abide by its tribunal's decision.
She then filed a lawsuit against the university requesting reinstatement. In response, in December 2018, the university dismissed her, along with 45 other academics, arguing that her contract had expired.
Her children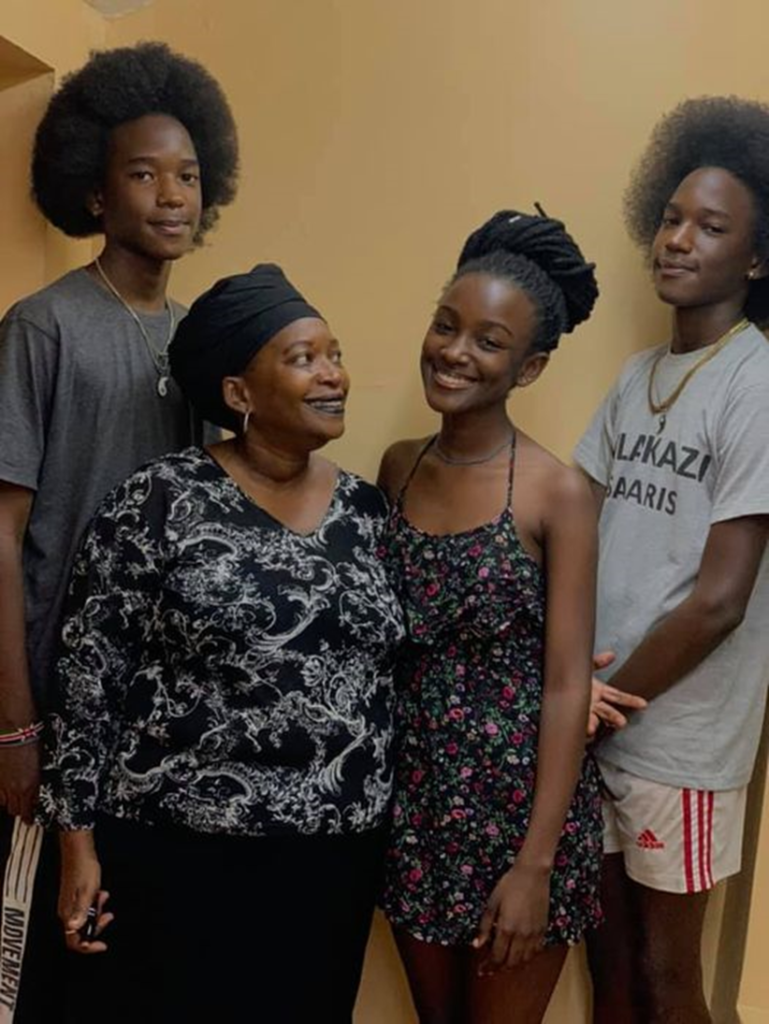 Now a mother of three, Nyanzi says she began fighting for the rights of the oppressed people as early as at the tender age of 14. Her activism has seen her fly her children out of her country atleast to ensure they remain safe.
She says that she is not without fear about the well-being of her children; but she must continue to fight for the rights of Ugandans, which she hopes will help secure a bright future not only for those she fights for, but also that of her children.
Nyanzi says her parents did not raise her a coward but as a critical thinker, and that is the way she also wants to raise her children, to be able to grow as independent thinkers.
Her future in activism
"Many times I'm fearful because it is dangerous–to oppose a militant dictator…you'll get beaten up, you'll get tortured, you'll get abducted…as a single mom, already separation from my children is one of the worst punishments, what I chose to do is to utilize my fuel…" says Nyanzi.
Her arrest in the past has attracted international condemnation from various organizations such as Amnesty International, Pen International, Human Rights Watch condemned among others. She adds that she is not the only person who has been a target of attacks in her country. Abductions of government critics she says have become rampant in her country, Uganda.
"My campaign manager—was abducted at 4a.m from his house, and later on his body was dumped outside Ruvaga Hospital, this is on the official records ….two or three weeks later my lover was abducted into a car…in that moment is when I fled to Kenya….I packed up my children, because I had had enough" She recalls.
The repressive regime of President Yoweri Museveni has made reportedly made activists afraid of going into the streets to highlight their grievances on the affairs of the state. Recently news outlets have been awash with the shocking story of the detention and torture of a renowned author Kakwenza Rukirabashaija who was arrested on December 28 on charges of offending President Yoweri Museveni and his powerful son on Twitter.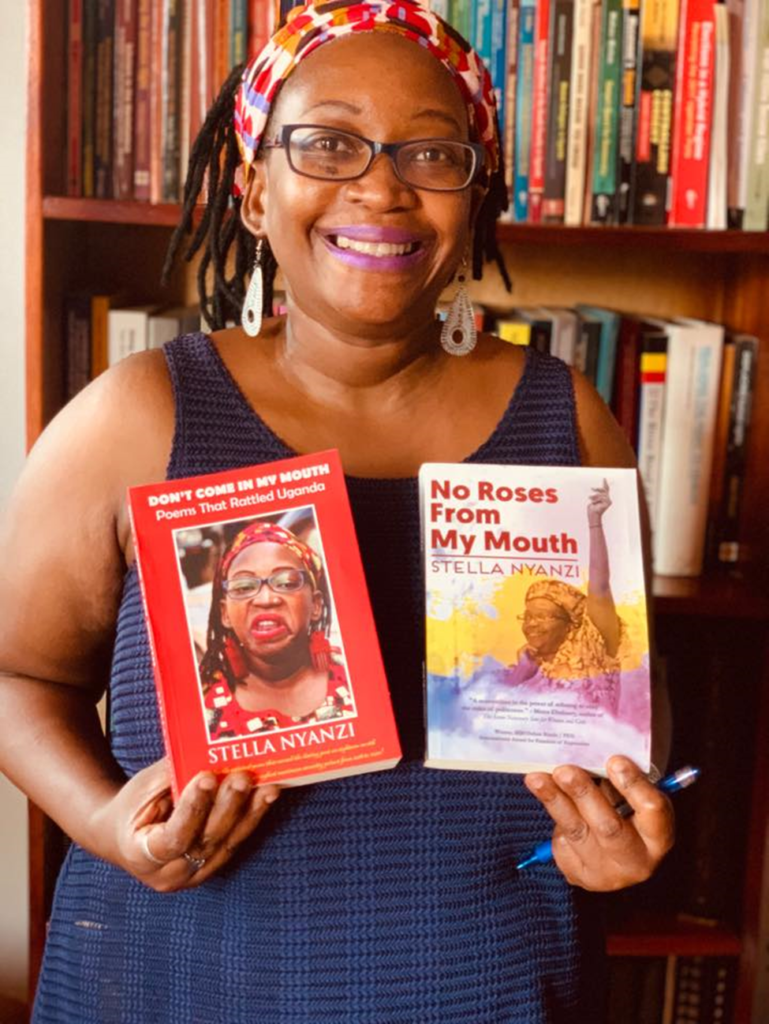 Stellah Nyanzi has written a political prisoner's series book titled: No Roses from My Mouth: Poems from Prison", and has also authored various academic work. Her writing has provided "insight into the effects of patriarchy, misogyny and homophobia in Uganda, The Gambia, and Tanzania." She says that she draws a lot of inspiration from her children, and women like Kenya's Wangari Maathai and Nawal El Saadawi from Egypt -now both deceased
She is now in exile in Germany with her family. In January 2022, they were accepted to live there on a writers-in-exile programme run by PEN Germany. "…so now that I'm outside Uganda, and even outside prison, how many books of poetry will I write? –Some people think I've given up the struggle, actually I think for me, retreat to fight another day is a good strategy." Stella Nyanzi says