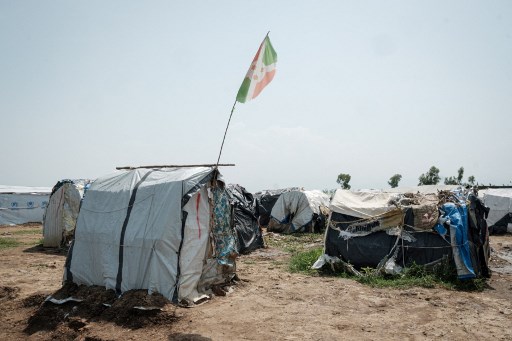 Katika miaka yake 40 ya kuishi kando ya ukingo wa ziwa, Amissa Irakoze hakuwahi kuliogopa sana Ziwa Tanganyika.
Mafuriko yalikuwa ya mara kwa mara, hata kugonga kwenye mlango wake wa mbele, lakini mwishowe kila wakati yalipungua.
Hangeweza kamwe kuona kilichotokea Aprili 2020. Aliporejea kutoka shambani, Irakoze alikuta nyumba yake iliyoko kaskazini-magharibi mwa Burundi ikiwa imezama na watoto wake 10 hawapo.
"Nilipiga mayowe, 'Watoto wangu, watoto wangu, watoto wangu!'" mama huyo alikumbuka, akiiga ishara ya kukata tamaa.
"Watoto walikuwa wamesombwa na maji, lakini baadhi ya watu waliokuwa karibu ambao wangeweza kuogelea walitumia boti kuwaokoa, na kuniletea."
Wote waliokoka kimiujiza.
Miaka miwili baadaye, maji ya mafuriko hayajapungua na ziwa la pili kwa ukubwa barani Afrika limesalia kwenye miinuko ambayo haijaonekana katika miongo kadhaa, ongezeko la maji ziwani humo ikisababishwa na mvua isiyokuwa ya kawaida na iliyokithiri inayohusishwa na mabadiliko ya tabianchi.
Irakoze na familia yake wanateseka katika kambi ya muda iliyoko kando ya ziwa la Gatumba.
"Tulikuwa tunalima, tulifanya kazi ambazo zilitusaidia kuishi. Lakini tangu tumefika hapa hatujafanya chochote," alisema Lea Nyabenda, mama mwingine wa watoto 10 aliyefika kambini hapo miaka miwili iliyopita.
"Maisha yamekuwa magumu, na makazi na ukosefu wa chakula hunitia wasiwasi. Kulala mahali kama hapa wakati tulikuwa na nyumba nzuri kubwa," alisema.
Gatumba imekua kwa kiasi kikubwa katika miongo ya hivi karibuni kutokana na ukaribu wake na Jamhuri ya Kidemokrasia ya Congo, jirani mkubwa wa Burundi upande wa magharibi.
Biashara katika mpaka imeongezeka na ujenzi pia huko Gatumba.
"Shule na majengo ya biashara yameharibiwa, mashamba yamefurika," alisema Geoffrey Kirenga, mkurugenzi wa shirika la misaada la Save the Children.
Asilimia 65 ya watu waliohamishwa kutokana na kufirika kwa ziwa hilo ni watoto.
Wengi hawana tena uwezo wa kufikia shule na wameanza kufanya kazi ili kusaidia familia zao.
"Watoto wanajihusisha na uvuvi jambo ambalo ni hatari, halina ulinzi hivyo inawaweka kwenye hatari ya kupata madhara ya kimwili," alisema Kirenga huku akitazama ziwa ambalo lilikuwa limekauka awali sasa likiwa limejaa viboko na mamba.
Shirika la Save the Children linatarajia hali kuwa mbaya zaidi msimu wa mvua unapoanza nchini Burundi, katika nchi ambayo Benki ya Dunia inaorodhesha nchi maskini zaidi duniani kwa pato la taifa (GDP) kwa kila mtu.
Vurugu za kisiasa na mapigano ya wenyewe kwa wenyewe yaliwafukuza mamia ya maelfu ya watu kutoka kwa makazi yao katika miongo ya hivi majuzi katika taifa hili dogo lakini lenye watu wengi lililoko kati ya Tanzania, DR Congo na Rwanda.
Majanga ya asili yalisababisha kuwepo kwa takriban asilimia 85 ya wakimbizi wa ndani 113,000 nchini humo, kulingana na Shirika la Kimataifa la Uhamiaji (IOM).
Kwa kiasi fulani, Burundi ni miongoni mwa mataifa yaliyo hatarini zaidi duniani kutokana na mabadiliko ya hali ya hewa.
Kulingana na wataalamu, ongezeko la mvua za kila mwaka — hasa mvua kubwa za ikweta – unasababisha kuongezeka kwa maji katika ziwa hilo kubwa.
Lakini mambo mengine yanaweza pia kuchangia kuongezeka kwake kwa kasi kwa maji kwenye ziwa, alisema Albert Mbonerane, waziri wa zamani wa mazingira wa nchi hiyo, na bingwa wa uhifadhi wa Tanganyika.
Ziwa limepungua na maji yamekuwa yakitiririka kwa mizunguko kwa vizazi.
Lakini kiasi cha takataka zinazotupwa kwenye mito inayolisha ziwa hilo kimeongezeka kwa kasi na mkondo wake pekee — njia ya maji inayoingia Congo — inaweza kuzibwa na kuzuia viwango kushuka, Mbonerane alisema.
Upande wa mashariki wa Gatumba,na mji mkuu wa nchi hiyo Bujumbura pia huzunguka ziwa.
Viwanja vya ardhi vimefurika, na nusu ya barabara ya njia nne ambayo hapo awali ilizunguka ufuo imezama.
"Wakati mwingine tunapozungumzia mazingira inaonekana ni hadithi tu tunazungumza lakini ukweli upo," alisema Mbonerane.