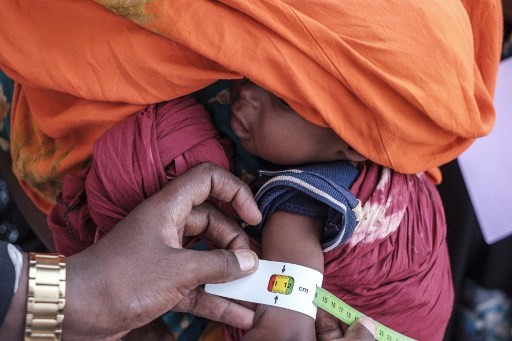 Makumi ya maelfu ya watoto nchini Ethiopia wanakumbwa na aina ya utapiamlo mkali huku ukame wa muda mrefu ukikumba mashariki na kusini mwa nchi hiyo, shirika la misaada la Uingereza la Save the Children lilisema Alhamisi.
Misimu minne mfululizo ya mvua haikunyesha katika eneo la Pembe ya Afrika, huku ya tano ikitarajiwa pia kuwa mbaya, na kusababisha ukame mbaya zaidi kuwahi kutokea katika kipindi cha miaka 40 na mzozo mkubwa wa njaa unaohusisha Kenya, Somalia na Ethiopia.
Zaidi ya watu milioni moja wanahitaji msaada wa haraka wa chakula katika mikoa ya Ethiopia ya Oromia, SNNP, Somalia na Kusini Magharibi, shirika la misaada lilisema katika taarifa.
"Takriban watoto 185,000 wanakadiriwa kuugua aina mbaya zaidi ya utapiamlo," ilisema.
Watoto — hasa watoto wadogo — wanabeba mzigo mkubwa wa mgogoro wa kutisha nchini Ethiopia," alisema Xavier Joubert, mkurugenzi wa nchi wa shirika la misaada nchini Ethiopia.
Katika eneo la Somalia — mojawapo ya maeneo yaliyoathirika zaidi — kiwango cha utapiamlo kiliongezeka kwa asilimia 64 katika mwaka uliopita, kulingana na Save the Children.
Katika kipindi hicho hicho, zaidi ya visa 50,000 vya utapiamlo mkali, ambao unahitaji matibabu ya dharura ili kuzuia vifo, vilirekodiwa, shirika lisilo la faida lilisema.
Sehemu kubwa ya jamii ya wafugaji wa kuhamahama katika eneo hilo lililoko katika ukiongo wa njaa ilisema, huku familia zikiripoti kuwa watoto wengi wanapata mlo mmoja tu kwa siku.
Ukame umeathiri takriban watu milioni 8.1 katika taifa hilo la pili kwa idadi kubwa ya watu barani Afrika, ambalo pia limekuwa likikabiliwa na matokeo ya mzozo uliodumu kwa miezi 19 kaskazini mwa nchi hiyo.
Takriban watu milioni 30 au robo ya wakazi wa Ethiopia wanahitaji msaada wa kibinadamu, Save the Children ilisema.
Ukosefu wa mvua umeharibu mazao, kuua mifugo na kulazimu idadi kubwa ya watu kuyahama makazi yao kutafuta chakula na maji kote Kenya, Somalia na Ethiopia.
Hali mbaya imechangiwa na mzozo wa Ukraine, ambao umechangia kupanda kwa gharama za chakula na mafuta.
Wakati huo huo, mwitikio wa kibinadamu unakabiliwa na ukosefu wa fedha, na agizo la Februari la Mpango wa Chakula wa Umoja wa Mataifa lilichangia asilimia nne tu ya fedha zinazohitajika
Afrika Mashariki ilivumilia ukame mbaya mwaka wa 2017 lakini hatua za awali za kibinadamu ziliepusha njaa nchini Somalia.
Wakati njaa ilipokumba nchi mwaka 2011, watu 260,000 — nusu yao wakiwa watoto wa chini ya umri wa miaka sita — walikufa kwa njaa au matatizo yanayohusiana na njaa.
Wataalamu wanasema matukio ya hali mbaya ya hewa yanazidi kuwa ya kawaida na makali zaidi kutokana na mabadiliko ya hali ya hewa.