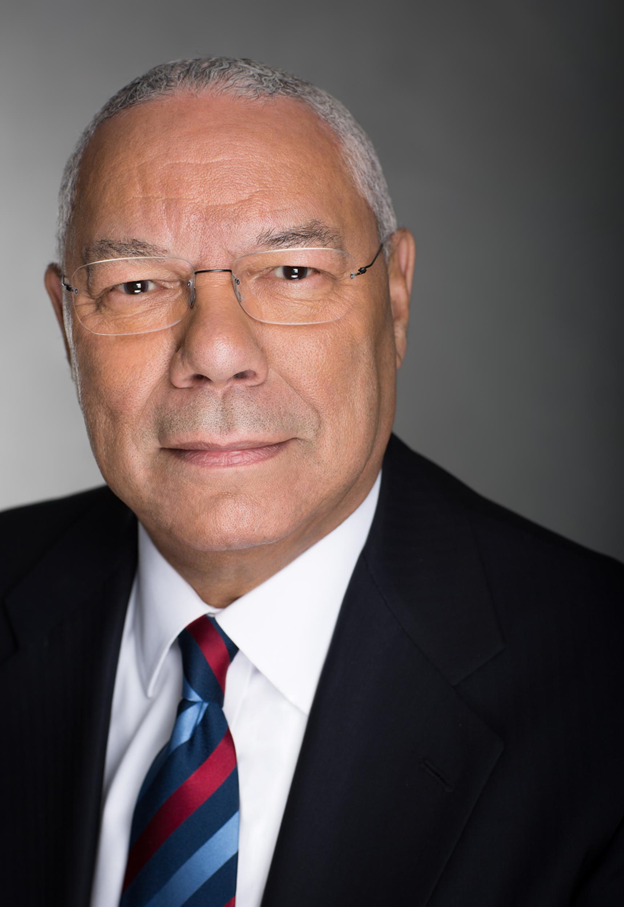 Colin Powell, the first African-American US Secretary of State, has died aged 84 due to COVID-19 complications and this coming after he had been vaccinated against the disease; his family said in a statement on Facebook that he died on Monday. Powell is said to be a four star general that last held public office in 2005.

Colin Luther Powell was born in Harlem, New York City, on 5 April 1937 and was raised in the South Bronx. His parents, Luther and Maud Powell, immigrated to the United States from Jamaica. After studying geology at the City College of New York, he joined the Reserve Officers Training Corps (ROTC), a programme designed to identify future military leaders. After graduation in 1958, he was commissioned as a second lieutenant in the US Army; he underwent basic training in Georgia. In 1962, he was one of thousands of advisers sent to South Vietnam by President Kennedy to bolster the local army against the threat from the communist North.
Powell in the past also became the first African-American US secretary of state, and was seen to be instrumental in shaping the foreign policy of Republican presidential administrations. He also served as National Security Advisor to former President Ronald Reagan from 1987 to 1989 and was Chairman of the Joint Chiefs of Staff under former President George HW Bush from 1989.
Some of his many other achievements
In 1968, Powell returned to Vietnam, receiving a decoration for bravery after surviving a helicopter crash in which he rescued three other soldiers from the burning wreckage.
He was assigned to investigate a letter from a serving soldier that reinforced allegations of a massacre at My Lai in March 1968, in which US soldiers killed hundreds of civilians, including children. He was later accused of "whitewashing" the news of the massacre, details of which did not finally become public until 1970.
After returning from Vietnam, Powell obtained an MBA at Georgetown University in Washington before securing a prestigious White House Fellowship under President Richard Nixon. International media also says there was a period he was as a lieutenant-colonel in South Korea before a move to the Pentagon as a staff officer.
After his time at an army college, he was promoted to brigadier-general and commanded the 101st Airborne Division before taking up an advisory role in government. He worked for a time in the Carter administration and then became senior military aide to Caspar Weinberger, the Secretary of State for Defence appointed by the incoming president, Ronald Reagan.
In 1987, Powell became national security adviser. When George H.W. Bush entered office in 1989, he was appointed Chairman of the Joint Chiefs of Staff, the highest military position in the US Department of Defense. At 52, he was the youngest officer ever to hold the post, and the first from an African-American background.
More on his work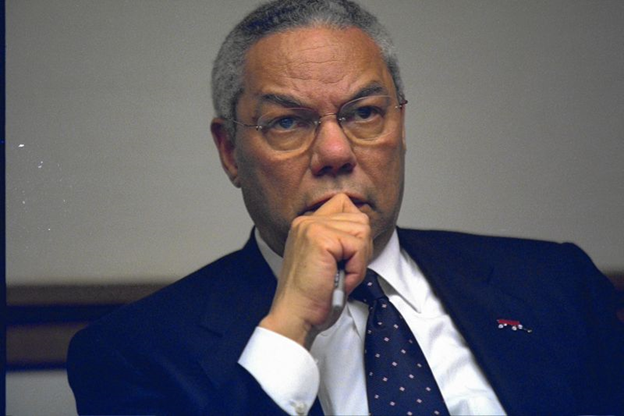 Powell's last assignment was from October 1989 to September 1993, where he served as the 12th chairman of the Joint Chiefs of Staff. During this time, he oversaw the invasion of Panama in 1989,  and Operation Desert Storm in the Gulf War against Iraq in 1990–1991, among other crises. He also formulated the Powell Doctrine which limits American military action unless it satisfies criteria regarding American national security interests, overwhelming force, and widespread public support.
Powell initially opposed the use of force in the Persian Gulf, against the wishes of the then Defence Secretary, Dick Cheney. However, operations Desert Storm and Desert Shield were a success and brought his name to international prominence. Powell remained Chairman of the Joint Chiefs of Staff during the early months of the new Clinton presidency. He clashed with the new president over the issue of allowing gay people to join the military and Powell opposed, and had a public disagreement with Madeleine Albright, then US ambassador to the UN, over military intervention in Bosnia.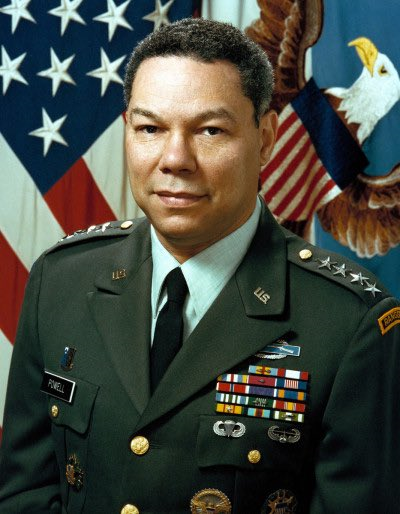 He left the army in 1993 and devoted time to writing his autobiography which topped the New York Times best-seller list and engaging in charity work. Freed from his obligations as a serving officer, he began to involve himself in politics. With admirers in both main parties, he was touted as a vice-presidential nominee for both Democrats and Republicans before declaring himself for the latter in 1995. There was talk of him standing against Bill Clinton in the 1996 presidential election, but Powell decided he lacked the passion for a political career.
However in 2000, George W Bush appointed Powell as secretary of state, the post responsible for US relationships with foreign countries.
Iraq war controversy
Powel grew to become a trusted military adviser to a number of leading US politicians, and even helped secure international opinion behind the 2003 invasion of Iraq. While initially opposing the military operation, Powell has been accused of misleading the public in the lead up to US invasion of Iraq as he sought to build international support.
After the 9/11 attacks, Powell found himself up against authorities such as the Secretary of Defence, Donald Rumsfeld, who favoured US intervention, in what became dubbed the "war on terror".  His reputation as a man of integrity is said to have helped persuade the United Nations of the case for war when he appeared before the Security Council in 2003. In a controversial presentation on February 5, 2003 to the United Nations Security Council, Powell made the Bush administration's case that Iraqi President Saddam Hussein constituted an imminent danger to the world because of the country's stockpiles of chemical and biological weapons.
Just 18 months later, with Saddam Hussein toppled, Powell admitted that intelligence suggesting the Iraqi dictator had possessed "weapons of mass destruction", was almost certainly inaccurate. Powell is quoted in an Aljazeera interview as having admitted that the presentation had twisted intelligence provided by others in the Bush administration.
In his resignation letter after Bush was re-elected in 2004, Powell told him that, "now that the election is over the time has come for me to step down as secretary of state and return to private life. I, therefore, resign as the 65th secretary of state, effective at your pleasure."
"I will always treasure the four years that I have spent with President Bush and with the wonderful men and women of the Department of State," Powell told reporters.
He remained outspoken on political issues, criticising the Bush administration on many fronts, including the treatment of detainees at Guantanamo Bay.
In 2008 Powell endorsed Barack Obama for the US presidency. His rejection of the Rumsfeld strategy of unilateral intervention allowed the US to build a worldwide alliance in the war against terrorism.
"War should be the politics of last resort…And, when we go to war, we should have a purpose that our people understand and support." he once said.
Condolence messages
Condolence messages have been pouring in since the announcement of the death of Powell on Monday. In a statement, former President George W. Bush said he and former first lady Laura Bush "are deeply saddened" by Powell's death.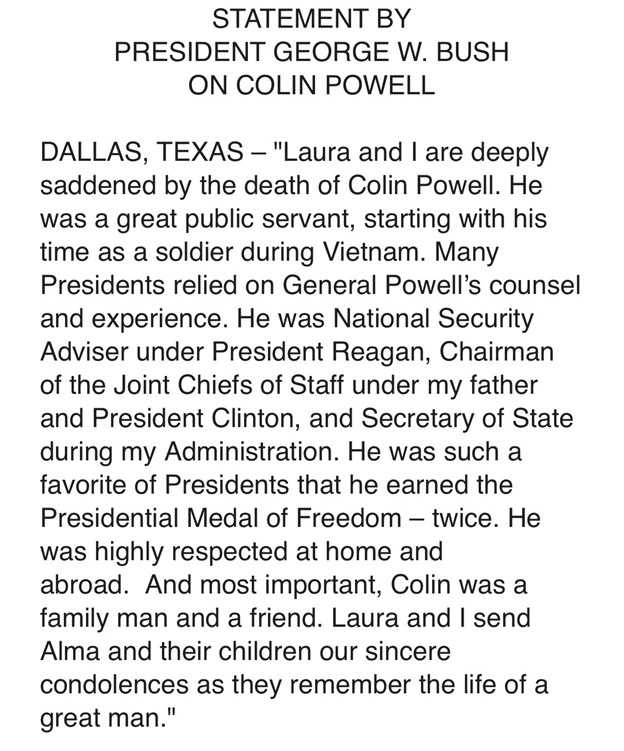 Several of Powell's colleagues, as well as journalists and other public figures, also took to social media to remember him.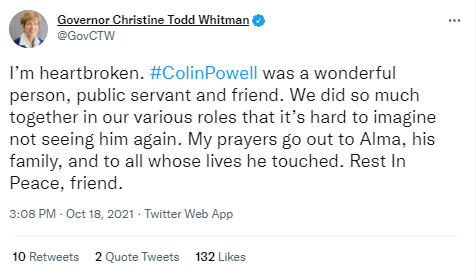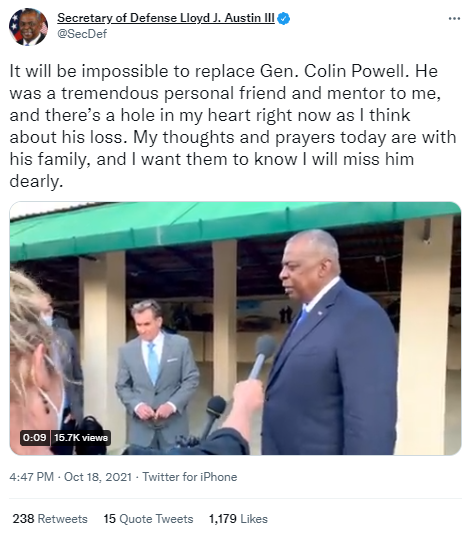 Reports from international media indicate that Powell has left behind his wife, Alma, and their three children.