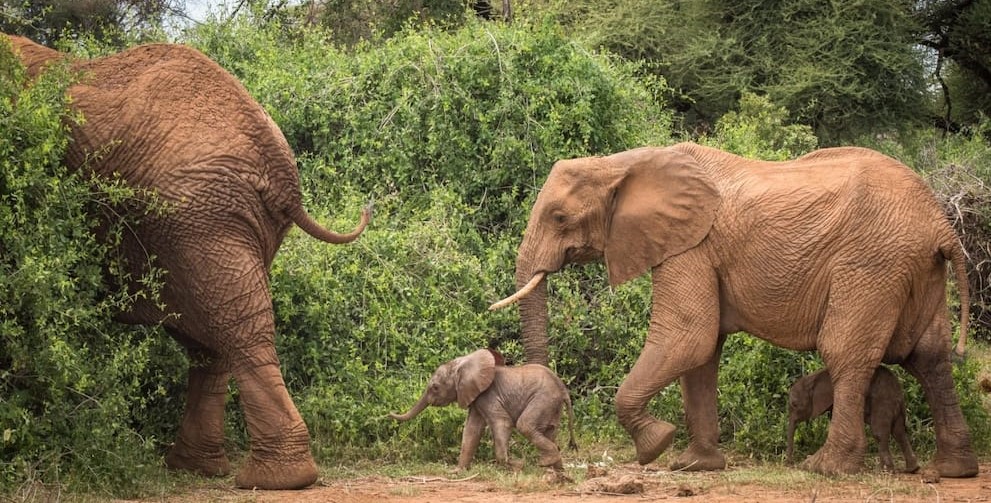 Tembo mmoja nchini Kenya amejifungua mapacha, tukio nadra sana, wahifadhi walisema Alhamisi.
Kundi la wahifadhi wanyama la Save the Elephants lilisema mapacha hao — mmoja wa kiume na mmoja wa kike — walizaliwa na tembo anayeitwa Bora.
Walionekana mara ya kwanza na waelekezi wa watalii waliobahatika kuwaona walipokuwa kwenye safari mwishoni mwa wiki katika hifadhi ya Samburu kaskazini mwa Kenya.
Video zinaonyesha watoto hao wachanga wakizoea mazingira yao ya savannah pamoja na mama yao mzazi na ndugu yao mkubwa, ndama wa kwanza wa Bora, aliyezaliwa mwaka wa 2017.
Tembo wa Afrika wana muda mrefu wa ujauzito kuliko mnyama mwingine yeyote aliye hai, tembo hubeba ujauzito kwa karibu miezi 22, na huzaa takribani kila baada ya miaka minne.
"Si kawaida kwa tembo kujifungua mapacha. Tembo pacha huunda takriban asilimia moja tu ya watoto wanaozaliwa," mwanzilishi wa shirika la Save the Elephants Iain Douglas-Hamilton alisema katika taarifa yake.
Walakini, mapacha wa tembo mara nyingi hawafanyi vizuri.
Pacha wawili wa mwisho waliozaliwa huko Samburu, mnamo 2006, walifariki siku chache tu baada ya kuzaliwa.
"Mara nyingi mama tembo hukosa maziwa ya kutosha kuwanyonyesha ndama wawili," Douglas-Hamilton alisema.
"Siku chache zijazo zitakuwa muhimu sana kwa mapacha hawa lakini sote tunawatakia kila la kheri wapate kuishi."
Inakadiriwa kuwa kuna tembo 36,280 nchini Kenya, kulingana na sensa ya kwanza kabisa ya kitaifa ya wanyamapori iliyofanyika mwaka jana.
Idadi hiyo iliwakilisha ongezeko la asilimia 12 la idadi ya tembo iliyorekodiwa mwaka wa 2014, wakati mauaji ya tembo kwa minajili ya pembe zao yalikuwa juu zaidi.
Muungano wa Kimataifa wa Uhifadhi wa Mazingira (IUCN) ulionya mwaka jana kwamba ujangili na uharibifu wa makazi, hasa kutokana na utumizi wa ardhi ya tembo kwa ajili ya kilimo, ulikuwa na athari mbaya kwa idadi ya tembo barani Afrika kwa ujumla.
Idadi ya tembo wa savanna barani Afrika ilipungua kwa angalau asilimia 60 katika nusu karne iliyopita, na kusababisha kuainishwa wanyama hao kama walio"hatarini kuangamizwa" katika sasisho la hivi punde la Red List ya IUCN ya spishi zilizo hatarini.