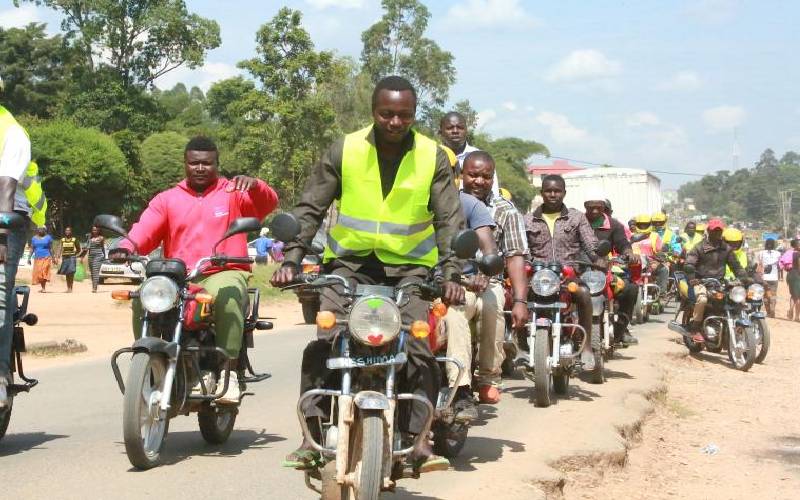 Polisi nchini Kenya wamewakamata washukiwa 16 baada ya dereva wa kike kushambuliwa na kundi la waendesha bodaboda, katika tukio ambalo lilizua ghadhabu kubwa mtandaoni.
Akithibitisha kukamatwa kwa washukiwa hao, Kamanda wa Trafiki Nairobi Joshua Omukata alisema washukiwa hao 16 wanazuiliwa katika Kituo cha Polisi cha Parklands huku uchunguzi kuhusu kisa hicho ukiendelea.
Video iliyosambaa kwenye mitandao ya kijamii ilionyesha mwanamke huyo, akiwa amekatikiwa nguo, akilipigia kelele kundi hilo kutoka ndani ya gari, ambalo mlango wake ulikuwa umefunguliwa kwa nguvu.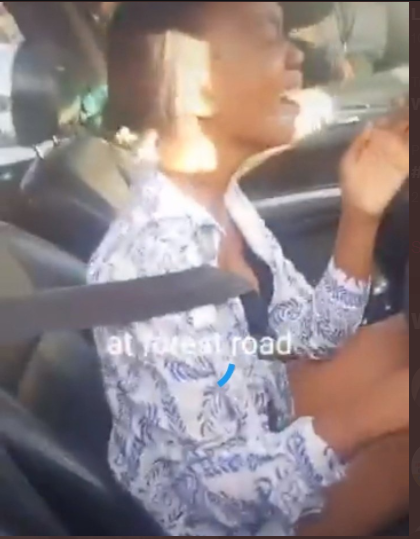 Kamanda wa trafiki alifafanua kuwa kisa hicho kilitokea Ijumaa, Machi 4 mwendo wa saa kumi na moja jioni. Inasemekana mwanamke huyo alimgonga mpita njia ndipo waendesha boda boda wakamvamia katika gari lake kwa kumpiga na kumkatia nguo wakitaka kumtoa kutoka kwa gari hilo.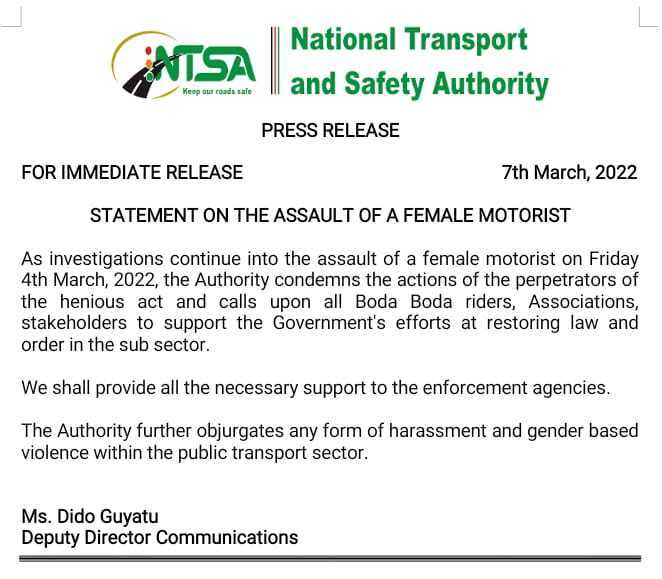 Kamanda wa trafiki Nairobi alifichua kuwa mwathiriwa alivunjika mguu na anaendelea na matibabu katika Hospitali ya Kiambu Level 4.
"Washukiwa kumi na sita wamekamatwa na pikipiki tano zimekamatwa," walisema.
"Tunalaani kwa nguvu zote aina zote za ukatili, ikiwa ni pamoja na unyanyasaji wa kingono na kijinsia," polisi walisema.
Polisi aliingilia kati kuzuia shambulio hilo.
Waziri wa Mambo ya Ndani Fred Matiang'i alisema kwenye Twitter, "Nimeshtushwa na kuchukizwa na video iliyosambaa ya mwendesha gari wa kike akinyanyaswa na watu wanaoshukiwa kuwa waendesha boda-boda kwenye Barabara ya Wangari Maathai/Forest."
Lazima tulinde waendesha magari dhidi ya maovu na vitendo vya kuchukiza kama hivi," alisema.
Chama cha Proactive and Safety Association of Kenya (PROSAK) pia kilitoa taarifa ya kulaani kitendo hicho kiovu na kutaka polisi ya kuchukua hatua kuhusu tukio hilo.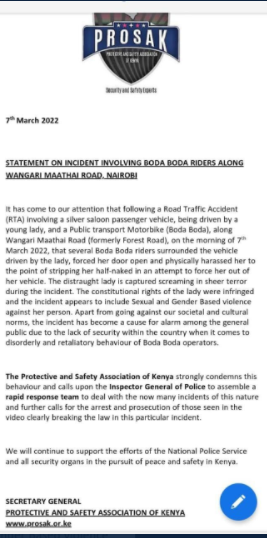 Chama hicho kilisisitiza kuwa kitendo hicho kiovu kinakiuka haki za kikatiba za mwanamke huyo na ni kinyume na kanuni za kijamii na tamaduni za nchi.
Bodi hiyo ilionyesha kuwa kuna sababu ya kuwa na wasiwasi miongoni mwa umma kuhusu tabia na fujo ya waendesha boda boda.
Waendesha boda-boda nchini Kenya, kwa kawaida ni vijana. Waendeshaji hao wanajulikana kwa kukiuka sheria za barabarani na kuwashambulia madereva baada ya kugongana.
Mnamo 2019, bodaboda hizo ziliainishwa kama "tishio kwa usalama wa taifa" na kitengo cha utafiti cha wizara ya mambo ya ndani, vyombo vya habari nchini vinasema.