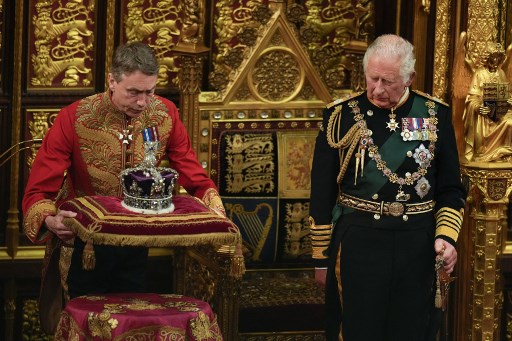 Mkuu wa nchi ya Uingereza Malkia Elizabeth II alikosa sherehe za ufunguzi wa Jumanne wa bunge la Uingereza kwa mara ya kwanza katika takriban miaka 60, akimkabidhi jukumu mrithi wake Prince Charles katika ishara ya wazi ya mabadiliko ya mamlaka.
Malkia huyo mwenye umri wa miaka 96 kwa kawaida husimamia tukio hilo lililojaa fahari na husoma mpango wa kutunga sheria wa serikali yake kutoka kwa kiti chake kilichopambwa kwa dhahabu katika House of Lords.
Lakini Buckingham Palace ilisema mwishoni mwa Jumatatu hangehudhuria ufunguzi wa bunge unaofanyika kila mwaka kutokana na ushauri wa kimatibabu.
Hili ni tukio la hivi punde zaidi katika msururu wa kiongozi huyo kukosa kuonekana hadharani kutokana na matatizo ya kiafya na uzee unaoonyesha kwamba utawala wake wa miaka 70 uliovunja rekodi unakaribia kuisha.
Charles, Prince of Wales, aliandamana na mwanawe mkubwa, Prince William, ambaye ni wa pili katika orodha ya uongozi wa kifalme.
William, Duke wa Cambridge, alifika bungeni mbele ya babake, akiwa amevalia suti na medali za kijeshi.
Charles, akiwa amevalia mavazi kamili ya kijeshi, alipungia mkono umati wa watu alipokuwa akisafiri kwa gari kuelekea Ikulu ya Westminster pamoja na mkewe Camilla, Duchess wa Cornwall.
Wimbo wa taifa, 'God Save the Queen' ulipigwa alipofika bungeni, kabla ya mlio wa tarumbeta ya kifalme kuanza alipotoka kwenye gari.
Msafara wa kifalme uliingia kwenye House of Lords nyuma ya taji rasmi la serikali ya kifalme — ambayo kawaida huvaliwa na malkia – na ilibebwa ndani ya chumba kwenye mto kabla ya kuwekwa kwenye meza ndogo.
Charles alitoa Hotuba ya Malkia kutoka kwa kiti cha Kifalme, huku akiwa na amezungukwa na mkewe na mwanawe alipokuwa akisoma ajenda ya serikali.