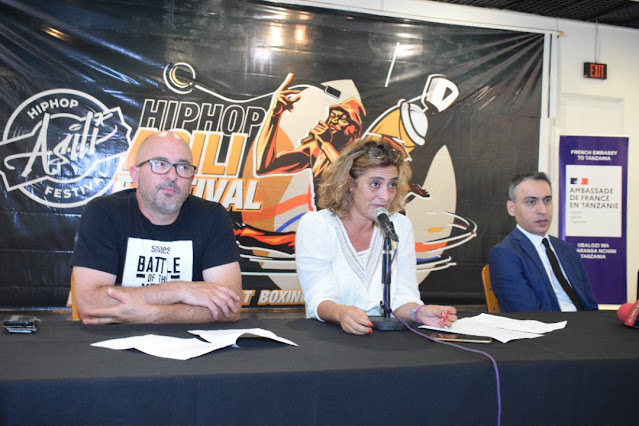 Wasanii kutoka nchi za Kenya, Uganda, Rwanda, Burundi, Jamhuri ya Kidemokrasi ya Congo, Ghana, Mayotte, Ufaransa na Marekani wanatarajiwa kukutana jijini Dar es Salaam nchini Tanzania kwenye tamasha la Hip Hop asili.
Wasanii hao wataungana na wenzao 36 waliochaguliwa katika mashindano ya Hip Hop Asili yaliyofanyika katika mikoa kadhaa nchini ambayo ni Mwanza, Arusha, Mbeya, Dodoma, Dar es Salaam pamoja na Zanzibar.
Tamasha hilo la Hip Hop asili litafanyika kwa muda wa siku tatu mfululizo kuanzia tarehe 23 hadi 25 mwezi huu.
Tarehe 24 mwezi huu tamasha la Hip Hop Asili litaandaa shindano la Break Dance la Afrika Mashariki ili kupata bingwa wa Tanzania ambaye atakwenda kwenye "Battle of the Year 2022" Tokyo nchini Japan.
Tarehe 25 mwezi huu tamasha hilo litapambwa na wasanii wa Octopizzo (Kenya), Tina Mweni (Kenya/Denmark), Rise up Band (Tanzania/Ufaransa), Jay Moe (Tanzania), The Mc 255 (Tanzania), Mic Crenshaw. (US), Lord Eyes (Tanzania) na wengine wengi
Wakati wa tamasha hilo pia kutakuwa na warsha zikilenga maudhui kama vile kukuza lugha ya kiswahili, historia ya Hip Hop nchini Tanzania, Sanaa ya Emcee, Breakdance, Beat Box na tamaduni nyingine za mziki huo
Wawezeshaji watakuwa Bboy Lilou kutoka Ufaransa ambaye ni bingwa wa dunia wa breakdance, Deejay PH kutoka Ufaransa, Mejah Mbuya kutoka Tanzania na Mama C (Tanzania/US).
In this article