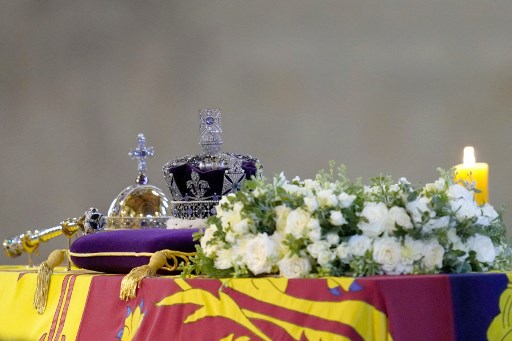 The crown sparkles with nearly 3,000 stones – including 2,868 diamonds, 273 pearls, 17 sapphires, 11 emeralds, and five rubies.
"It can be quite hard to look at sometimes because of the sheer light that comes off them. It's literally dazzling… visually overpowering," says historian and author of The Crown Jewels, Anna Keay.
She says historically, right back to the Middle Ages, crowns were viewed as expressions of wealth and status.
"It signifies majesty, it signifies sovereignty."
Made in 1937 for the coronation of the Queen's father, King George VI, the Imperial State Crown was designed to be lighter, and to fit better, than the crown it replaced – which dated back to Queen Victoria. But nevertheless, the Imperial Crown still weighs in at a hefty 2.3lbs (1.06kg).During her reign, Queen Elizabeth II would wear it annually for the State Opening of Parliament – as she sat on a golden throne reading out the government's key legislative plans for the year ahead.
In 2018, the Queen joked about how heavy the crown felt to wear.
"You can't look down to read the speech, you have to take the speech up, because if you did your neck would break," explained Her Majesty. "There are some disadvantages to crowns, but otherwise they're quite important things."
In 2019, when the monarch was well into her 90s, a lighter crown was used – and in 2021, the final time she took part in the ceremony, she didn't wear one at all.
The Imperial State Crown includes the 317 carat Cullinan II diamond – sometimes called the Second Star of Africa. Cut from the largest diamond ever found, it was given to Edward VII on his 66th birthday by the government of the Transvaal – a former British crown colony – in present day South Africa.
It also includes the oldest gem in the royal collection – a sapphire said to have once been worn in a ring by the 11th Century king of England, St Edward the Confessor. The stone is now set at the center of the cross that tops the crown.