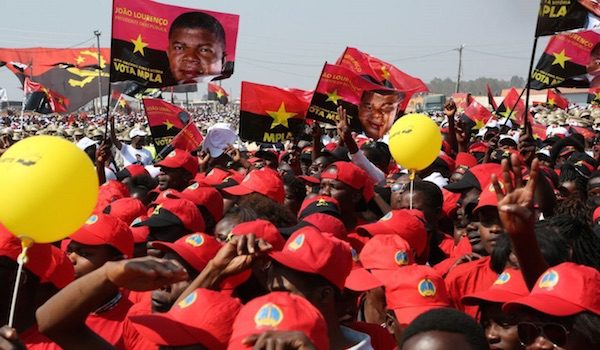 Ofisi ya chama tawala cha Angola ilichomwa moto siku ya Jumatatu wakati wa maandamano ya madereva wa mabasi.
Madereva hao wamegoma kulalamikia unyanyasaji wa polisi, maelfu ya madereva walisitisha safari zao katika mji mkuu Luanda na kuwaacha wasafiri — ambao wengi hutegemea huduma hizo taabani.
Maandamano yalizuka na ofisi za Chama cha People's Movement for the Liberation of Angola (MPLA) katika wilaya ya Benfica ya Luanda kuchomwa moto, kanda za runinga za serikali zilionyesha.
Moto huo haukusambaa lakini uliharibu jenereta.
Kwingineko, bendera za MPLA zilizokuwa zikipeperuka zilishushwa.
Basi la umma pia lilichomwa.
Katika taarifa, chama cha MPLA kilikemea "vitendo vya uharibifu," vinavyolenga afisi zake.
Chama cha MPLA kiIlitoa wito kwa wafuasi wake "kuwa watulivu," na kutokubali vitendo vya "uchochezi."
Hapo awali katibu wa MPLA Bento Bento alikashifu shambulio hilo la uchomaji moto akisema lilichochewa kisiasa.
"Waliohusika na kitendo hicho wanajulikana" alisema kwenye televisheni ya umma, bila kutaja mtu yeyote.
Imesalia miezi minane tu uchaguzi kufanyika katika nchi hiyo yenye utajiri mkubwa wa mafuta, ambapo Rais Joao Lourenco atakuwa anawania muhula wa pili.
Maandamano ya umma yametokea mara kwa mara nchini Angola katika miaka ya hivi karibuni, mara nyingi yakionyesha hasira juu ya kushindwa kwa serikali kutekeleza ahadi za kuboresha hali ya maisha na kuunda nafasi za ajira.
Polisi wamesema wamewakamata watu 17 kuhusiana na maandamano na ghasia za Jumatatu.
Mgomo huo uliitishwa ili kulazimisha serikali kufuta vizuizi vilivyowekwa vya kupunguza idadi ya abiria kwenye mabasi hadi asilimia 50, agizo lililowekwa mwanzoni mwa janga la UVIKO-19.
Kundi la wamiliki wa teksi ambalo liliitisha mgomo huo wa siku tatu, lilijitenga na ghasia hizo.
"Mgomo huo unatokana na ubaguzi wa kila siku wa polisi na amri ya awali ya kupunguza idadi ya abiria ndani ya magari," alisema Francisco Paciente, bosi wa Muungano wa New Alliance wa Chama cha Madereva Teksi cha Luanda, aliwaambia waandishi wa habari.
Wenyeji zaidi ya milioni sita wa Luanda wanategemea takriban teksi 30,000 za kibinafsi kwa safari zao za kila siku.