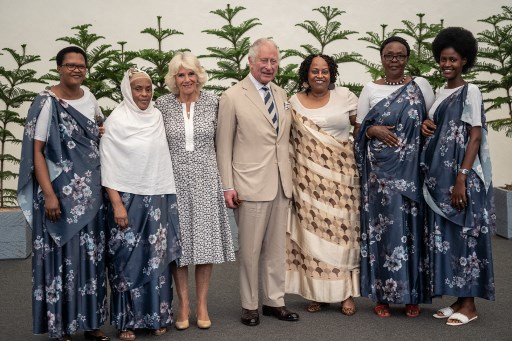 Mwanamfalme Charles aliweka shada la maua siku ya Jumatano katika ukumbusho wa mauaji ya kimbari ya mwaka 1994 nchini Rwanda wakati wa ziara ya kwanza ya mfalme wa Uingereza nchini humo.
Mwanamflame na mkewe Camilla walitulia kimya katika kumbukumbu ya Mauaji ya Kimbari ya Kigali, mahali pa mwisho pa kupumzikia kwa zaidi ya waathiriwa 250,000 wa mauaji yaliyofanyika karibu miongo mitatu iliyopita.
Wanandoa wa kifalme walitia saini barua ya ukumbusho kuandamana na shada la maua meupe.
Pia walizungumza na manusura wa mauaji ya halaiki ambapo takriban watu 800,000 hasa Watutsi waliuawa na vikosi vya Wahutu wenye itikadi kali kwa muda wa siku 100 kati ya Aprili na Julai 1994.
Makazi ya mafuvu, vipande vya mifupa na vipande vya nguo, ukumbusho huo ni ushuhuda unaokabili hali ya kutisha ya mauaji ya kimbari na kituo mashuhuri cha wageni wanaotembelea Rwanda.
Charles na Camilla pia walitembelea jumba la kumbukumbu ambapo walitazama picha za waathiriwa wa mauaji hayo na mali zao, na kusikia ushuhuda wa kibinafsi kuhusu mauaji hayo.
Wanandoa hao wa kifalme waliwasili Jumanne jioni nchini Rwanda ambapo Mwanamfalme anamwakilisha mama yake, Malkia Eizabeth II, katika mkutano wa kilele wa Jumuiya ya Madola wiki hii.
Viongozi wa mataifa ya Jumuiya ya Madola wanatarajiwa mjini Kigali katika siku zijazo kwa mkutano wa jumuiya hiyo yenye wanachama 54 ya makoloni ya zamani ya Uingereza.
Rwanda, koloni la zamani la Ujerumani na Ubelgiji, ilijiunga na Jumuiya ya Madola mwaka wa 2009 na katika miaka ya hivi karibuni imesogea karibu na ulimwengu unaozungumza Kiingereza.
Jumba la Makumbushao ya mauaji ya kimbari lilizinduliwa mwaka wa 2004 wakati wa maadhimisho ya miaka 10 ya mauaji hayo, Makumbusho ya Mauaji ya Kimbari ya Kigali yana kituo cha elimu, bustani, maktaba, na ukumbi wa michezo wenye viti 1200 ambao huandaa warsha, michezo ya kuigiza na filamu za kitamaduni.
Mabaki ya waathiriwa yamelazwa katika safu tatu kuu, na zaidi yamezikwa huku makaburi mapya yakifukuliwa kote nchini.
Katika eneo la mazishi, The Wall of Names umejitolea kwa waathiriwa wa mauaji ya kimbari.