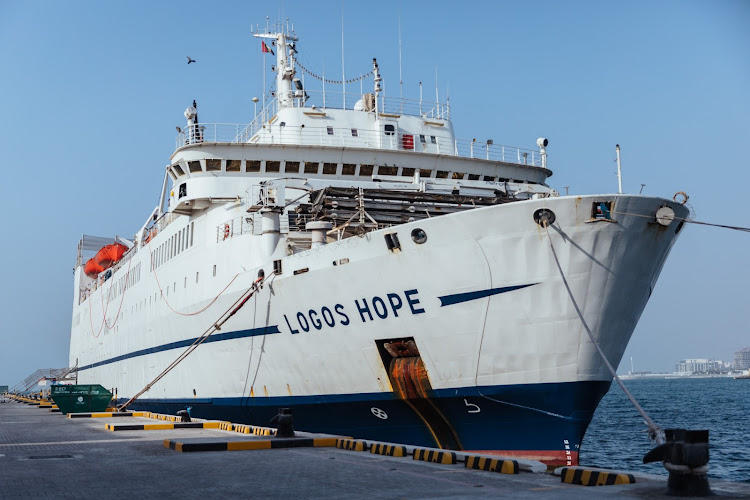 The world's largest floating library, MV Logos Hope, docked in Mombasa from Seychelles on Tuesday morning with 350 crew on board from 65 nationalities.

The vessel dubbed, 'the floating library' docked at the Mbaraki Wharf next to the Likoni crossing.

MV Logos Hope which boasts 5000 different titles of books, will give thousands of Kenyans the opportunity to experience the world's largest floating book fair from August 23 to October 3, after paying an entrance fee of Sh50.
The floating book fair offers many diverse titles, providing many visitors with their first-ever opportunity to choose from a wide range of quality literature, with genres ranging from science, sports, hobbies, language, faith, cookery arts and purchase medicine.
MV Logos Hope's visit to Kenya has been organized in partnership with KPA, Inchcape, the Mombasa County government and Kenya Tourism Board.
MV Logos Hope was built 50 years ago as a passenger car ferry and was first named Gustav Vasa sailing North Atlantic routes.
The ship which is sailing under the Malta flag, with an overall length of 132.5 meters, a width of 20.8, a draft of 5.2 meters and a carrying capacity of 12,519 Gross Tons made her maiden to Mombasa 18 years after her sister ship MV Duolos visited. MV Doulos docked in Mombasa in 2005 which saw thousands of Kenyans welcomed on board.
The public will be treated to the fun of touring the expansive vessel to explore other amenities like the international café, visitor's deck, and welcome area among others.
The ship which is operated by GBA (Good Books for All) aims to promote literacy and education, cross-cultural cooperation, and social awareness. It has so far been in over 150 countries and territories.