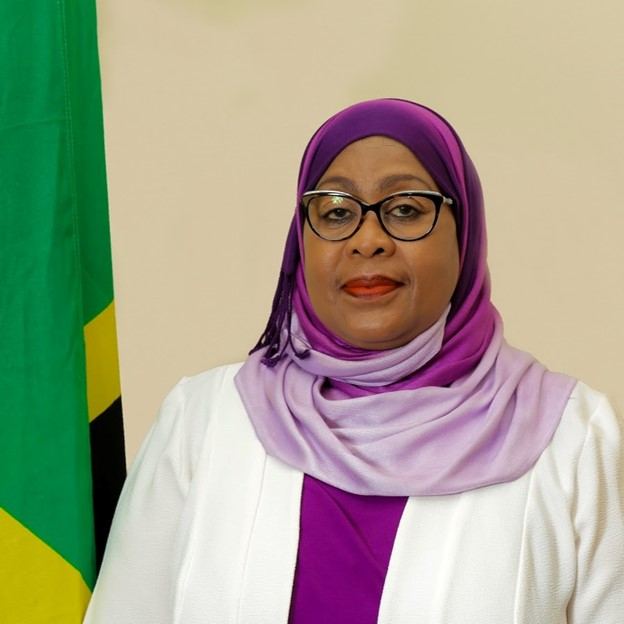 Tanzania's first female President Samia Suluhu will today (Thursday) address the ongoing 76th session of the United Nations General Assembly (UNGA). This will be her first address to the assembly in an event where she is expected to touch on issues on climate change and COVID-19, and most notably to share her administration's priorities.
Ms Suluhu's expected address to the Assembly has taken centre stage amongst Tanzanians on social media, who have majorly been critical of her leadership, and also highlighted what they would expect her to majorly speak on, issues majorly touching on democracy. A look at some tweets on social media, some coming from those allied to the main opposition party (CHADEMA) in her country, while also others from general citizens, sentiments appeared hinged on hopes that she would uphold truth and transparency as she speaks on the state of affairs in her country. Notably is a tweet from the Secretary General for CHADEMA Women Wing, Catherine Ruge, who in a tweet on Thursday criticized Ms Suluhu's government for its handling of press freedom in the country.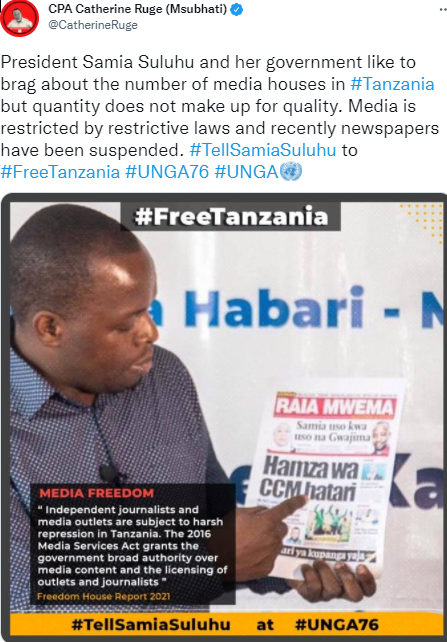 Clamping down of media houses had become a common occurrence in Tanzania especially under the former President John Magufuli's regime, where media outlets were shut down unceremoniously. In her initial days in office, the current President Suluhu, appeared committed towards upholding press freedom, however her government has appeared to gradually go back on it' word. Just last month, Ms Suluhu's government suspended the publication of Uhuru's newspaper for 14 days after the local daily which is owned by the ruling party CCM published a story with a headline saying that she would not vie for presidency in 2025. Earlier in the day, the ruling party-CCM had also reportedly taken disciplinary action against the newspaper's hierarchy in addition to the suspension.
In addition to the issue of press freedom, Tanzania is faced with the daunting task of constitutional reform, which the country's opposition has been pushing for but has been met with great opposition from Ms Suluhu's government. Currently, a case is ongoing at the High Court in Dar es Salaam, where CHADEMA'S party chair Freeman Mbowe and three others, are being tried over terrorism related charges. This case emerged from what the opposition says is an attempt to silence its voice in the push for constitutional reform.
These are among key issues the opposition says it hopes President Suluhu will highlight as she addresses the UN General Assembly today, the issue of constitutional reform and democracy in her country. Tanzania's Njombe Region's chair for the opposition, Rose Mayemba, through her tweeter account, went ahead to join those voicing their concerns as they await the address of the president today (Thursday). Mayemba added her voice by calling on world leaders gathering at the Assembly, to aid in efforts pushing for President Suluhu and her government to respect international law and conventions, saying there is a need for" true Justice and Freedom" in her country.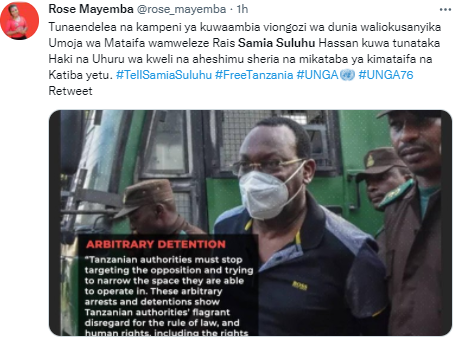 The main opposition party of Tanzania, CHADEMA, has consistently made clear that it will not participate in another election under the current constitution, citing what it has called the constant poor management of elections. There have also been demands for an independent electoral commission as well as the restructuring of the union between Tanganyika and Zanzibar which make up the United Republic of Tanzania.
In its 2021 Freedom in the World report on political rights and civil liberties across Africa and the globe, Freedom House indicated that Tanzania was partially free. The report shows that the country has held regular multiparty elections since its transition from a one-party state in the early 1990s, but the opposition remains relatively weak, and the ruling party, Chama Cha Mapinduzi (CCM), has retained power for over half a century. Since the election of former President John Magufuli in 2015, the government has been seen to also continually crack down on its critics in the political opposition, the press, and civil society. Freedom House says that reports of abuse and torture of suspects in police custody are also common, with the police being accused of extrajudicial killings and other violence over the past four years.
The UN General Assembly's theme this year is 'Building resilience through hope: to recover from COVID-19, rebuild sustainably, respond to the needs of the planet, respect the rights of people and revitalise the United Nations.' It is to be expected that President Suluhu will address the issue of vaccination rollout and its progress, as well as the current COVID-19 situation in her country.