Mwanzo Media Limited is proud to announce the top ten finalists for the Miss Universe Kenya 2021 (MUK2021) competition. The semifinalists were selected from a pool of submissions; here are their names.
Roshanara Ebrahim
Deborah Asiko
Maymuna Abdi
Maren Clera
Esther Ochieng
Olivia Njoroge
Charity Wijass
Sheila Agola
Doreen Akinyi
Paskaline Jebet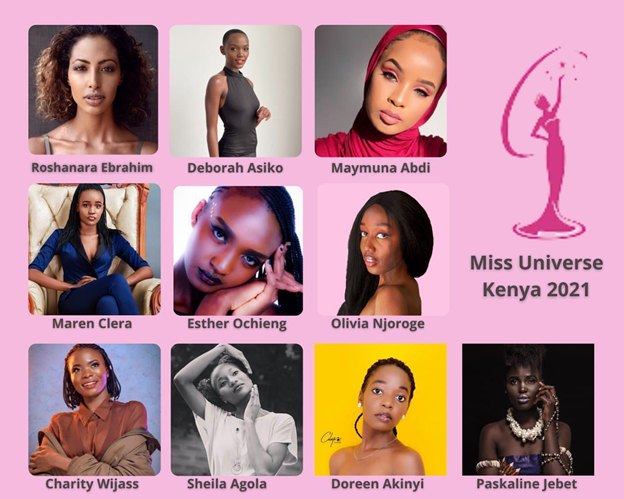 Miss Universe Kenya is the national preliminary to Miss Universe, whereby selected judges choose a winner to represent the country at the global Miss Universe pageant; Kenya is seen to have an excellent track record in the prestigious global pageant. The top ten semifinalists are set to face off at the upcoming competitions, towards being crowned the next Miss Universe Kenya.
The Mwanzo Media management is running this year's Miss Universe Kenya pageant, and is proud to also announce new partnerships with various companies including but not limited to; Havilah Cornerstone Ranch who are facilitating hosting of the lush beauty pageant finals, Tunu Bakeries – our pastry suppliers and Tiny Planet Kenya for event coverage.
This year's Miss Universe Kenya is expected to showcase Kenya's diverse dernier cri, basically the latest in fashion and beauty, which will give prominence to the various cultures of the various communities of the country. Keep it here, for all updates pertaining to the event which continue to be published across Miss Universe Kenya social media platforms and those of Mwanzo Media Limited's Television arm, Mwanzo TV.