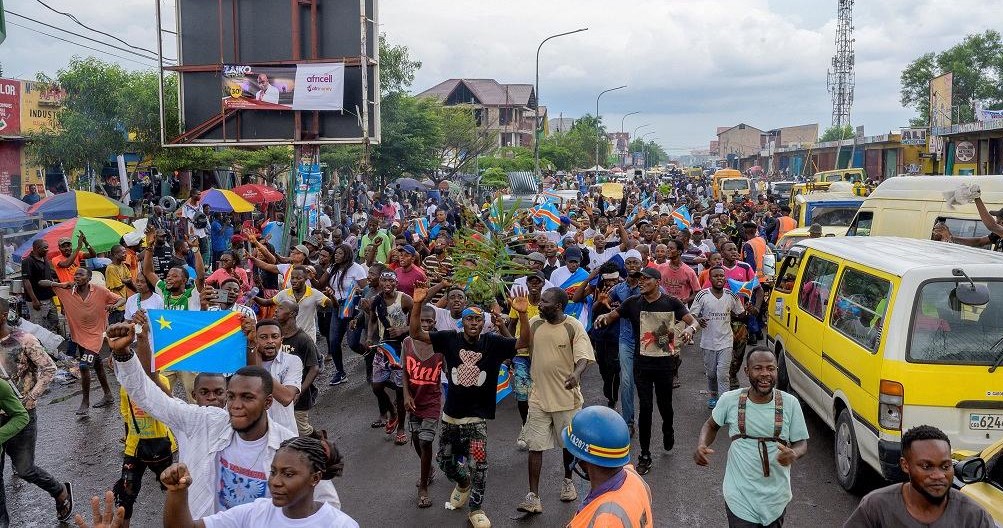 Mamia ya wakongo waliandamana dhidi ya Rwanda Jumatatu katika mji mkuu wa Jamhuri ya Kidemokrasia ya Congo Kinshasa kuhusu madai ya Kigali kuunga mkono kundi la waasi la M23, huku mvutano kati ya majirani hao wawili ukiongezeka.
Waandamanaji hao pia walitoa wito wa kufukuzwa kwa balozi wa Rwanda.
"Congo ni nchi yetu… hakuna hata sentimita moja itaenda Rwanda," ilisomeka bango moja.
Uhusiano umedorora tangu kuwasili kwa Wahutu wa Rwanda mashariki mwa Jamhuri ya Kidemokrasia ya Congo wanaotuhumiwa kuwaua Watutsi wakati wa mauaji ya halaiki ya Rwanda mwaka 1994.
Uhusiano ulianza kuwa bora baada ya Rais wa DRC Felix Tshisekedi kuchukua madaraka mwaka wa 2019 lakini kuzuka upya hivi karibuni kwa vurugu za M23 kumezua hali ya wasiwasi, iliyochangiwa na kuzuiliwa kwa wanajeshi wawili wa Rwanda nchini Congo.
Waandamanaji walibeba mishumaa na kutoa matamshi makali dhidi ya Rais wa Rwanda Paul Kagame.
"Tunaunga mkono FARDC (jeshi la Kongo), vijana wetu wako tayari kufanya kazi ya kijeshi kutetea nchi," Pasi Nkoy kutoka chama cha Union for Democracy and Social Progress UDPS, alisema.
Wakati huo huo Kinshasa ilirudia madai kuwa Rwanda inaunga mkono M23 — kundi ambalo kimsingi ni la Watutsi wa Congo — baada ya mapigano kati ya wapiganaji wake na jeshi la Congo kuzuka upya wiki iliyopita katika jimbo la Kivu Kaskazini, ambalo linapakana na Rwanda.
Hata hivyo, msemaji wa serikali Patrick Muyaya alisema Jumatatu kuwa Kinshasa haitafunga mlango wa mazungumzo.
Siku ya Jumamosi, RwandAir ilitangaza kusitisha safari zake za kwenda DRC, baada ya mamlaka ya Congo kusimamisha safari za shirika hilo la ndege na kumwita balozi wa Kigali.
Jeshi la Ulinzi la Rwanda (RDF) baadaye lilisema wanajeshi wawili walitekwa nyara wakishika doria na wanazuiliwa na kundi la waasi la Democratic Forces for the Liberation of Rwanda (FDLR), kundi lingine la waasi mashariki mwa DRC.
Umoja wa Mataifa ulisema siku ya Ijumaa mapigano hayo mapya yamewakosesha makazi watu 72,000, na kuonya kwamba wale waliokimbia wanakabiliwa na ghasia za mara kwa mara na uporaji wa nyumba zao.
Katika shambulio la hivi punde la waasi, watu 16 waliuawa, saba kujeruhiwa na magari yalichomwa wakati wa uvamizi wa usiku katika eneo lenye hali tete la mashariki, Shirika la Msalaba Mwekundu na wenyeji walisema Jumatatu.
Uvamizi huo ulifanyika Jumapili jioni huko Bulongo katika jimbo la Kivu Kaskazini, kulingana na rais wa vijana wa kijiji Andika Miheko, ambaye alilaumu kundi maarufu la Allied Democratic Forces (ADF).