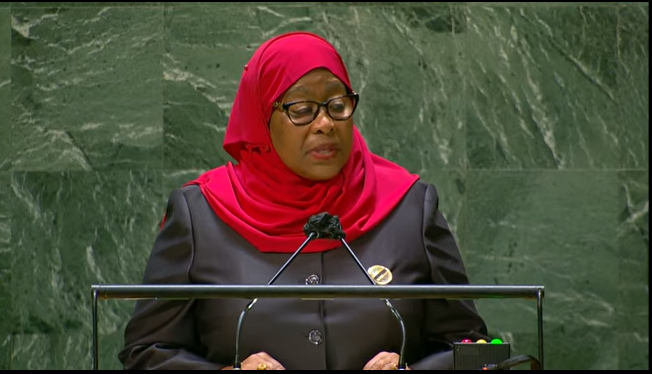 On Thursday Tanzanians remained glued to events at the 76th session of the UN General Assembly taking place in New York, as a speech they eagerly awaited was due to be heard by world leaders across the globe. Going by tweets from many citizens from her country, it was expected that President Samia Suluhu would in her maiden address touch on the state of affairs in her country especially those pertaining to the opposition and human rights, but instead the president to many, appeared to downplay current events back at home.
While anxiety was building back in her country, moments before she took the podium to address world leaders , a section of Tanzanians in New York staged protests outside the UN headquarters, against what they said is Ms Suluhu's wanting leadership and continued oppression of the opposition and violation of human rights by her government.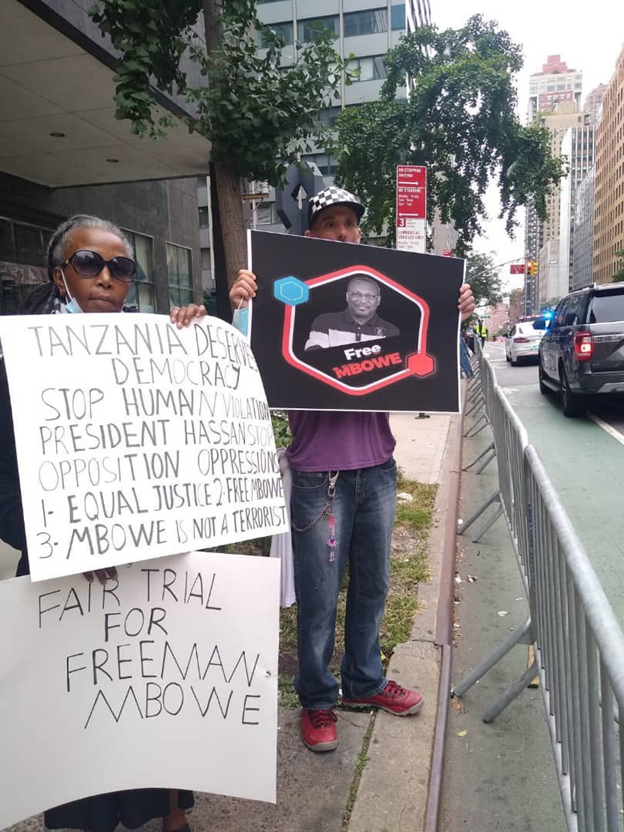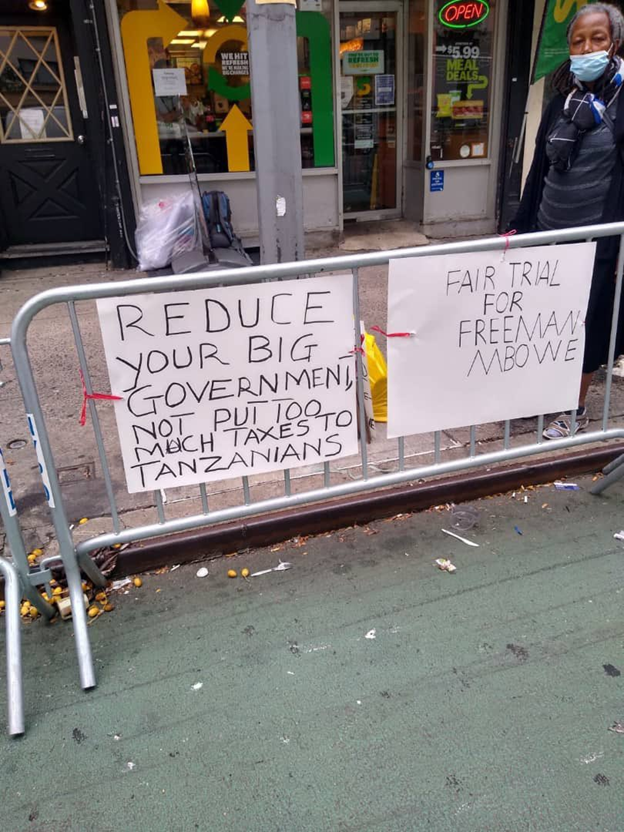 Protesters waved placards with messages demanding Ms Suluhu to free Tanzania's main opposition party (CHADEMA) chair, Freeman Mbowe, who was arrested alongside several other party members in July this year the night before they were to hold a public forum on constitutional reform. Mbowe was held in an undisclosed location beyond the reach of counsel for weeks and allegedly subjected to torture, before appearing in court for the first time on Friday, August 6, on terrorism related charges.
Despite the handling of the opposition in her country being public knowledge, Ms Suluhu in her address on Thursday at the UN headquarters, was seen to downplay her government's handling of voices pushing for constitutional reform.
"Aware of the nexus between economic growth and governance, we managed to maintain peace and political stability with a vibrant and institutionalized good governance practices upholding rule of law and human rights." President Suluhu said in her maiden address at UNGA.
Her remarks sparked outrage leading angry Tanzanians to take to social media, to voice what they termed as Ms Suluhu's attempt to lie to the world; many of them saying she was not honest about matters that had to do with the political space and thus democracy in her country. Here are some of the tweets: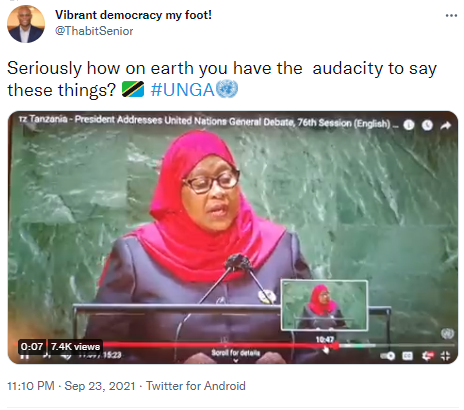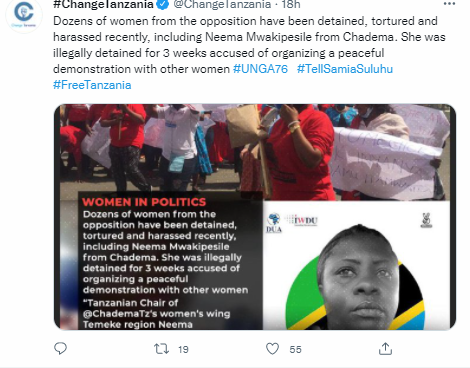 In her address, Ms Suluhu also said her government was keen on upholding gender equality. However even as she has recently made various appointments giving women in her country a chance at leadership, women allied to the country's main opposition party, CHADEMA, say she has not entirely extended goodwill to all women, given the recent detention of women who held peaceful protests pushing for constitutional reform and the release of their party chair, Freeman Mbowe.
"Aware that being passionate about gender equality is not sufficient, my government is reviewing policy and legal frameworks in order to come up with actionable and measurable plans, to ensure economic empowerment of women but also other aspects pertaining to gender equality and gender parity. ' said Ms Suluhu in her address on Thursday.
Tanzania has been ruled for decades by the Chama Cha Mapinduzi party, which the opposition accuses of being deliberately reluctant in supporting the push for constitutional reform, in what is seen as an attempt to hold onto power. Governance in the country was said to further deteriorate during the former president John Magufuli's tenure, where his government was seen to oppress media houses, downplay the impact and crisis generated by the COVID-19 pandemic among other key issues. His seemingly casual handling of the pandemic had created a sour relationship with other nations that had as a result imposed travel restrictions on Tanzania. However in what was seen as an attempt to heal the sour relationships, the new president Ms Suluhu in her address asserted her country's commitment to co-exist with other nations.
We tend to forget that nobody is safe until everyone is safe." She said.
Even as Ms Suluhu hopes to bring economic revival in her country and growth in the business environment, and given that in her maiden address she highlighted that a free and healthy political space is vital for this, it remains to be seen how her government will achieve this with an already charged political environment and an opposition that has refused to settle for a constitution that they say does not adequately protect human rights or promote the installation into government leadership, of people who genuinely have the interests of Tanzanians at heart.