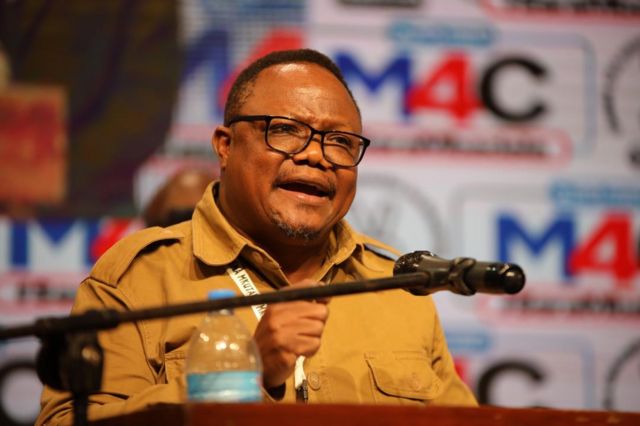 Tanzanian authorities have launched an investigation into opposition stalwart Tundu Lissu after briefly arresting him and other party members on accusations of illegal gathering, police said Monday.
Lissu, who returned to Tanzania in January after years in exile following an assassination attempt in 2017, was detained on Sunday before being released on bail hours later.
He and other members of Chadema, Tanzania's main opposition party, were enroute to the Ngorongoro conservation area where Maasai pastoralists are protesting against the government's plans to relocate them.
"Investigation is still ongoing," senior police official Justine Masejo said.
"We will move ahead with other legal steps after completing the investigation," he added.
Lissu said on Saturday that police had "blocked" him from going to Ngorongoro and subsequently dispersed a sit-in protest held by him and his team.
They were due to hold rallies in support of the Maasai who have accused the government of evicting them from ancestral land in order to organise safaris and hunting expeditions.
The government says their growing population is encroaching on wildlife habitat and began moving the pastoralists out of Ngorongoro last year, calling it a voluntary relocation.
"Ngorongoro is not a prison. Police feared I would tell the truth about what is going on there about the eviction of the Maasai," Lissu said on Sunday after being released.
Tanzanian president Samia Suluhu Hassan lifted the ban on political rallies in January this year, part of a push to overturn some of the policies imposed by her authoritarian predecessor, John Magufuli.
Lissu, an outspoken critic of Magufuli and the governing CCM party, was shot 16 times while seated in his car in 2017 and spent the next few years recovering in Belgium before returning home to a rousing welcome this year.
str/amu/ri
© Agence France-Presse