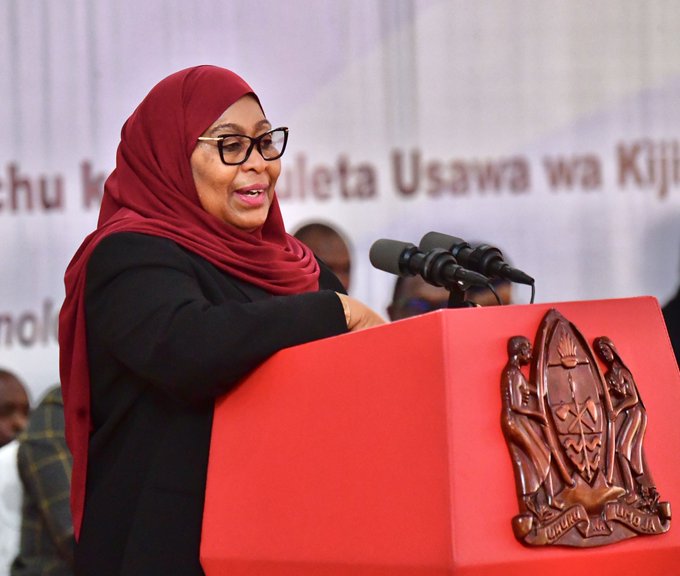 Tanzania's President Samia Suluhu Hassan vowed Wednesday to restore competitive politics in the country and jump start a stalled process to review the constitution, long a demand of the opposition.
Hassan, in power for 23 months, has sought to restore democratic norms in the East African nation and extended overtures to her political rivals, including lifting a ban on opposition rallies in January.
"I promise you more reforms to build our new nation with competitive politics," the 63-year-old told an opposition gathering celebrating the International Women's Day.
Tanzania held its first multi-party elections in 1995 and the ruling Chama Cha Mapinduzi (CCM) party has won every election since.
CMM won the last general elections in 2020 with an improbable 84 percent of the vote in a ballot dismissed by the opposition and some diplomats as a sham, over alleged rigging and a crackdown on his rivals.
In 2019, CCM won local elections with 99 percent after an opposition boycott.
No president has attended an event organised by the opposition in three decades, Hassan said.
"We are writing a new history today in efforts to unite our nation," she told cheering supporters.
"If there is an issue, let us sit together, discuss and move on after consensus."
Hassan has been under pressure to break with the hardline policies of her predecessor John Magufuli, who died in 2021 after six years of heavy-handed rule.
On Wednesday, she promised to form a committee for constitutional reforms, without specifying the timelines.
Rights groups and opposition parties have been pushing hard for a rewriting of the constitutional to include change to limit presidential powers.
Adopted in 1977, Tanzania's latest constitution has been amended more than 10 times since, including with provisions to introduce a multiparty system.
Previous attempts to change the basic law stalled in 2014, with the opposition push for reforms met with government crackdowns.
'Shown good intention' –
While Hassan has reversed some of the most controversial policies imposed by Magufuli, hopes however dimmed in July 2021 when opposition Chadema party leader Freeman Mbowe was arrested on terrorism charges.
He was released after seven months but some critics labelled Hassan a "dictator".
Mbowe, who attended the meeting on Wednesday, said they were ready to forge ahead with the government but demanded an overhaul of the electoral body and constitution ahead of the 2025 polls.
"We are ready to forgive whatever we experienced in the past and move ahead because you have shown a good intention for that," Mbowe said.
Hassan has battled division within her CCM party since taking office, shuffling her cabinet three times in 2022 as internal fissures broke into the open.
She has accused rivals inside the government of trying to damage her leadership, and last year suspended a party-owned newspaper for publishing a story saying she would not run in elections set for 2025.
str-ho/lcok/lc
© Agence France-Presse